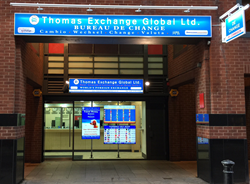 Thomas Exchange Global recently opened its 8th branch offering foreign exchange services at Embankment
London, UK (PRWEB UK) 24 February 2015
Thomas Exchange Global recently opened its 8th branch offering foreign exchange services at Embankment. The Embankment branch is the 1st of a series of branches planned for 2015 to expand the services due to increased demand.
The Embankment branch is conveniently located at 15 Villiers Street, which is approximately 3 minutes walking from the Charing Cross railway station and the Embankment Tube Station. The new branch is located very close to two rail stations, hotels, a passenger boat service, and a number of restaurants and wine bars.
"Our Embankment branch will provide convenience to commuters travelling via Charing Cross and Embankment rail stations. The combined footfall of them exceeds 73 mio," said Trevor Samuel, the Area Manager of Thomas Exchange Global.
"The new branch accommodates travel money services, providing over 120 types of foreign bank notes, international bank transfers, and other related services under one roof. The branch has been designed with the ease, comfort, and privacy of both corporate and personal customers in mind," continued Samuel.
With London being the most visited city in 2014, the Embankment branch is strategically located at the North Bank to cater to visitors to London.
"We do not charge commission on foreign money converting to Pound Sterling and offer the best rates in London. As such, the Embankment branch will provide the best travel money deals for visitors to London," Samuel concluded.
The Embankment branch offers all of Thomas Exchange Global's services, which include offering the best exchange rates, stocking the widest variety of currencies in the UK with instant availability of over 120 types, and not charging any commission on travel money transactions.
About Thomas Exchange Global
As dedicated foreign exchange specialists, Thomas Exchange Global has the professional expertise, in depth market knowledge, technological infrastructure and commitment to provide an unprecedented level of service that sets the standard in the foreign exchange industry. They are specialists in all areas of foreign exchange. They provide commission free currency as well as travellers cheques.
Thomas Exchange Global also offers International Money Transfer Service where funds can be remitted to overseas bank accounts within 1 to 2 days. With commission free service for transfers over £10,000 backed by competitive exchange rates, customers are assured of a better deal and a substantial saving compared to banks and money brokers.
Thomas Exchange Global branches are located at Strand, Victoria Street, Liverpool Street, Hammersmith, Cannon Street , Wormwood Street and Richmond.
For further details visit http://www.thomasexchangeglobal.co.uk or call 020 7240 1214.