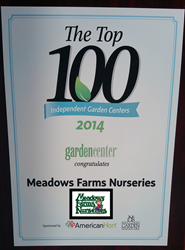 "We are pleased to have ranked so high up, and are looking forward to a great season ahead of us" - Jay Meadows, President
(PRWEB) February 23, 2015
Garden Center Magazine, a publication servicing North America's garden product retailers and garden centers has released their 2014 Top 100 Independent Garden Centers list, which is based on 2013 revenues. Meadows Farms Nurseries placed in the top 3 with a sales volume of $49,902,241. There are 36 states represented in this year's list, with combined revenues of over $820 million dollars in 2013. Only independent garden centers were considered for this list- large box stores/mass merchandisers were not included. Each of the Top 100 Independent Garden Centers will receive a personalized plaque honoring their achievement.
Meadows Farms Nurseries was the only garden center in the Washington DC area in the top 30. "We are pleased to have ranked so high up, and are looking forward to a great season ahead of us," says Jay Meadows, President of Meadows Farms.
The Meadows Farms niche is geared to the value-minded consumer. Their appreciation for each and every customer is demonstrated in the requirement that each be thanked four times- by the personnel involved as well as driving past a 'Thank-You' sign as they leave the nursery.
About Meadows Farms Inc.
Meadows Farms Inc., is one of the largest independently owned nursery and garden centers in the country, and has won many awards from Garden Center Magazine, Independent. They have 22 retail locations employing more than 750 employees, a landscape facility housing 39 designers and sending out more than 70 crews a day, and a grounds maintenance division. For more information, visit http://www.meadowsfarms.com.