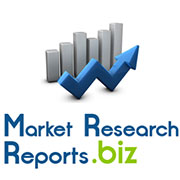 Albany, NY (PRWEB) February 21, 2015
The report, titled Global Hydraulic Equipment Market 2015-2019 states that the market will observe moderate growth, at a CAGR of 4.54%, between the years 2015 and 2019.
View Full Report at http://www.marketresearchreports.biz/analysis/243893
The global market for hydraulic equipment comprises equipment that use a kind of pressurized fluid for machine operations. Commonly, an engine or pump is used to drive the equipment that pressurizes hydraulic fluid.
The variety of hydraulic equipment used by machines includes motors, pumps, valves, and cylinders. Machines using hydraulic equipment are commonly employed in industries such as construction, oil and petrochemical, automotive, agriculture, metallurgical, and plastic. Hydraulic equipment use various fluids such as fluids based in petroleum, phosphate ester fire-resistant fluids, and synthetic fire-resistant fluids.
Download Detail Report With Complete TOC at http://www.marketresearchreports.biz/sample/sample/243893
The report states that the robustly growing end-user industry of construction, among many other important end-user industries, is the chief driving factor for the global hydraulic equipment market. The construction sector has especially progressed in developing economies of the world such as China and India from the Asia-Pacific region. A wide array of infrastructure development projects such as road, railways, and housing construction have led to an increased demand for earthmoving machines such as cranes, bulldozers, and loaders. These machines rely on hydraulic equipment for their operations.
The publication also states that the fire resistant properties of hydraulic equipment based on polyol ester and glycol fluids have led to an increased demand for such devices on a global front. Looking at this trend, hydraulic device manufacturers across the globe are increasingly focusing on the development of hydraulic equipment capable of working with fire-resistant fluids.
However, the high maintenance cost of hydraulic equipment is one of the major factors that could limit the market's growth to a large extent over the next few years.
Explore All Technavio Market Research Reports at http://www.marketresearchreports.biz/publisher/73
The report gives a detailed account of important trends, positive as well as negative, affecting the market's current state, factors driving and restricting the market's growth, key businesses operating in the market, and the opportunities and threats faced by businesses in the market. Also presented is a detailed account of financial health, operational and marketing strategies, and strengths and weaknesses of the key vendors profiled in the report.
The notable players operating in the global hydraulic equipment market, as profiled by the report, include Daikin Industries, Bailey International, Feintool International, Parker Hannifin, Toshiba Machine, Mechatronics, Moog, Wipro Infrastructure Engineering, KYB, Eaton, and Bosch Rexroth.
The report bases its forecast on a detailed analysis of past and current trends in the market, studied according to a variety of industry-specific research aspects, multiple primary and secondary research techniques, and inputs from industry experts.
About MarketResearchReports.biz
Marketresearchreports.biz (http://www.marketresearchreports.biz) is the most comprehensive collection of market research reports, supporting clients' market intelligence needs with over 100,000 market research reports, company profiles, data books, and regional market profits in its repository. We also offer consulting support for custom market research needs.
Our document database is updated by the hour, which means that our customers always have access to fresh data spanning over 300 industries. From Fortune 500 companies to SMEs, Marketresearchreports.biz has built a veritable reputation for fulfilling the most exacting market research needs.
Contact:
State Tower
90 State Street,
Suite 700, Albany
NY 12207, United States
Toll Free: 866-997-4948
Email: sales(at)marketresearchreports(dot)biz
Browse Blog at https://businessmonitorinternational.wordpress.com/