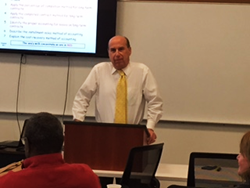 Bridgeport, CT (PRWEB) February 21, 2015
The Greater New England Minority Supplier Development Council (GNEMSDC) in conjunction with the Connecticut Department of Transportation (CTDOT) and the Community Capital/GNEMSDC BondSure Program today announced February 20, 2015 as the starting date of a special 6-week training session for Minority Business Enterprises (MBEs) and Disadvantaged Business Enterprises (DBEs) in the construction and engineering areas.
Sessions will be conducted each Friday starting February 20th through March 27th from 8:30 a.m. until 4:00 p.m. at the GNEMSDC Training Center located at 333 State Street, Bridgeport, Connecticut.
Experts from top industry firms were carefully selected to provide the training. A partial listing of instructors includes professionals from Clark Construction, Turner Construction, and Johnson Controls.
CTDOT is scheduled to conduct the concluding program session titled "How to Do Business with DOT" that poses an unparalleled opportunity for graduates to immediately use their newly acquired skills.
The full program agenda listed below focuses on topics that survey data and feedback from MBEs/DBEs indicate are the biggest hurdles to growing their businesses:
1. Construction Accounting/Finance/Bonding/QuickBooks Pro
2. Estimating/Bidding/Purchasing
3. Construction Contract Law
4. Operational Management
5. Joint Ventures/Partnering/Subcontracting
6. Marketing a Construction Company/CTDOT/Graduation
"We're encouraged by the enthusiastic response to the Advanced Leadership Program for Construction MBEs/DBEs," says GNEMSDC President and CEO Dr. Fred McKinney. "This Program is a very important component in fulfilling the mission of the Council to develop minority businesses. We're extraordinarily grateful to the CTDOT for their cooperation and solid support in making it happen."
About BondSure
BondSure helps increase the surety bonding capacity of small, minority and women-owned construction firms throughout Southern Connecticut. The program provides contractors with collateral support, education, management, technical, and financial assistance designed to improve their ability to successfully bid and perform large public and private sector construction projects. The program is jointly administered by GNEMSDC and Community Capital.
For more details and requirements regarding BondSure please go to BondSure.org or email alopez@gnemsdc.org or call Andres Lopez at (203)288-9744.