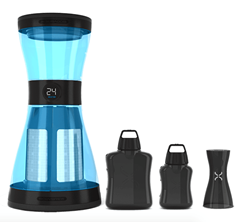 Vancouver, WA (PRWEB) February 24, 2015
The team at BodyBrew is getting ready to launch its all-new BOD™ Coffee System and will be giving away 100 free BODs over the next 30 days.
The BOD™ is a heart, stomach and smile friendly coffee system that strips away oily compounds* and stomach-churning, teeth staining acids. The BOD™ uses patented cold brew infusion technology to transform any ground coffee into a delicious, super-concentrated coffee extract designed for health conscious coffee drinkers. When compared to traditional brewing methods, the BOD™ has:

82% Less Cafestol* than French Press & Espresso To Maintain Healthy Cholesterol
69% Less Total Acid Than Drip Coffee
58% Less Tannic Acid Than Drip Coffee
Just visit Bodybrew.com and enter to win a free BOD™ today! Earn extra entries by sharing on social networks.
BodyBrew CEO Bob Neace said, "We've spent the past five years developing and engineering the BOD™ to not only be beautiful, but also incredibly functional, fully modular and portable. We're excited to offer health conscious coffee lovers an easy way to brew healthier coffee at home, or wherever life takes them."
About BodyBrew
The BodyBrew team has over 30 years of combined experience working in and developing products in the coffee industry and a lifetime of dedication to health. All products created by BodyBrew are built using three basic principles: great design, great function and great value. To stay up to date on news and other exciting announcements like BodyBrew on Facebook or follow @BodyBrewBrand on Twitter.
(*Diterpenes-Cafestol and Kahweol)