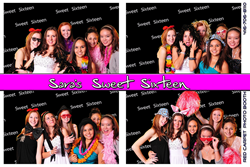 Guests will be able to choose from various themes including Toronto, Italy, nature, and red carpet.
Toronto, ON (PRWEB) February 24, 2015
A local Toronto company specializing in professional photo booth photography is pleased to announce their updated services for the new year. Their main "Red Carpet Photo Booth" experience offers clients a modern open-air photo booth that can be used unlimitedly during their event and accommodate up to sixteen people at one time.
The photo booth uses green screen technology that can change the photo background in a matter of seconds. Guests will be able to choose from various themes including Toronto, Italy, nature, and red carpet. The backgrounds and settings can be manually adjusted from a touchscreen. The customized pictures are unlimited, printed out on-site in less than ten seconds, and available in two sizes. There are a variety of props such as hats, glasses, and accessories provided to the guests to enhance the experience. A DVD with all of the pictures will be given to the event organizer in the same evening. The entire experience is meant to be hassle-free for the clients, the transportation and installation of the photo booth will be included, and both a photographer and assistant will be present to ensure guests receive a red carpet experience.
Red Carpet Photo Booth has been providing these professional photography services to the Greater Toronto Area since 2012. During these last two years, the company has made an unprecedented name for themselves within the event industry. Clients are consistently impressed with the level of professionalism provided by the photographers and the unique vision put into each event. Red Carpet Photo Booth offers a variety of professional photography packages for corporate events, weddings, birthdays, and anniversaries.
Find out more information about Red Carpet Photo Booth by visiting their website directly at http://www.photobooth-gta.ca.
About Red Carpet Photo Booth:
The company was created and developed by a noted freelance photographer and computer programmer named Greg. The idea came to Greg when he was unable to find a professional photo booth for his daughters wedding. He was inspired to create his own unique photo booth using green screen technology and Red Carpet Photo Booth was born. The company vision is to provide unique and fully-customized services in the event industry.