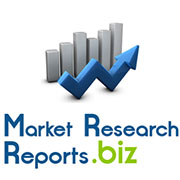 Albany, NY (PRWEB) February 22, 2015
In a new research study on the global migraine drugs market added to the extensive research report database of Marketresearchreports.biz, it is stated that the market will grow at a CAGR of 3.54% between 2014 and 2019. The report is titled "Global Migraine Drugs Market 2015-2019".
View Full Report at http://www.marketresearchreports.biz/analysis/243895
The report states that the global market for migraine drugs is largely driven due to the globally rising prevalence of migraine headaches. A Medline article suggests that at least 12% of the U.S. population suffers from migraines. The WHO states that nearly 47% of the entire world's population suffers from some kind of headache, 10% of which is migraine. It has been found that very few migraine sufferers get the condition diagnosed or treated even though the headache takes a serious toll on their social and economic lives.
Download Detail Report With Complete TOC at http://www.marketresearchreports.biz/sample/sample/243895
Migraine is a neurological condition that is most commonly characterized by severe headache. Headache in the case of a migraine is often accompanied by a set of common conditions such as acute sensitivity to light and sound, vomiting, and nausea. Due to fluctuating hormone levels in women, migraines occur more often in women than in men. Every year, migraines affect the lives of millions of people around the globe irrespective of their age, gender, race, or occupation.
There is currently no specific test that can accurately trace the exact reason behind migraines or confirm the diagnosis of the condition. There are, however, medicines, anti-inflammatory agents, and certain devices that restrain the occurrence of critical triggers that play a major role in migraine headaches.
There are various therapeutic methods available for treating migraine, and the report presents a detailed study of the global market for anti-migraine drugs. Typical classes of drugs in this market include anti-inflammatory painkillers, triptan medicines, anti-sickness medicines, and painkillers.
The report presents a thorough study of current growth prospects for the global migraine drugs market and presents the forecast for a period of 2015 to 2019. The report divides the global migraine drugs market into two chief segments – Ergot Alkaloids and Selective Serotonin Receptor (5-HTI) Agonists. The size of the market in the report is a representation of revenues generated from the sales of multiple commercial drugs used in the prevention and treatment of migraine. The market is also geographically divided into three chief regions: the Americas, EMEA region, and the APAC region.
Explore all Technavio Market Research Reports at http://www.marketresearchreports.biz/publisher/73
The research publication states that the market has observed a sharp rise in strategic alliances between key businesses. Commercial agreements between manufacturers are also proving to be highly beneficial since the distribution networks of both partners combine together to allow better commercialization of drugs.
The report indicates that the global market for migraine drugs is highly competitive. It is chiefly dominated by seven international pharmaceutical companies: Allergen, Abbott Laboratories, Pfizer, GlaxoSmithKline, Impax Laboratories, Eisai, and Endo International.
About MarketResearchReports.biz
Marketresearchreports.biz (http://www.marketresearchreports.biz) is the most comprehensive collection of market research reports, supporting clients' market intelligence needs with over 100,000 market research reports, company profiles, data books, and regional market profits in its repository. We also offer consulting support for custom market research needs.
Our document database is updated by the hour, which means that our customers always have access to fresh data spanning over 300 industries. From Fortune 500 companies to SMEs, Marketresearchreports.biz has built a veritable reputation for fulfilling the most exacting market research needs.
Contact:
State Tower
90 State Street,
Suite 700, Albany
NY 12207, United States
Toll Free: 866-997-4948
Email: sales(at)marketresearchreports(dot)biz
Browse Blog at https://businessmonitorinternational.wordpress.com/