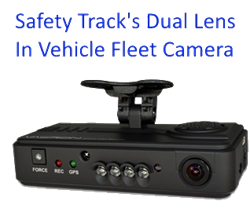 A Live Video Streaming DashCam for under $400.00, it's unheard of
Belleville, Michigan (PRWEB) February 26, 2015
Safety Track , a Leader in Fleet Safety since 2002, has developed a new line of cost effective Live Streaming fleet Cameras. The UCIT DashCam, a 2 channel Dash mount fleet camera that give Fleet Managers and fleet owners the ability to stream live video while the vehicle is on the road.
This small compact DashCam attaches to the front windshield of a vehicle and records continuous video of both the driver and what he sees for up to 40 hours.
Would KNOWING what a driver is doing on the road help Improve Fleet Safety? Would it increase driver accountability?
This device gives Fleet Manager the ability with a click of a mouse to see, in real time, exactly what goes on inside their fleet vehicle at any time.
let's face it, Fleet Managers have their hands full.

Fraudulent Insurance Claims
Higher Insurance Cost
Fleet management issues
Driver Accountability
He Said, She Said
All the while trying to maintain profitability.
The advantage of cameras in vehicles can provide the needed advantage in case on any type of accident. No longer will there be a questions of fault, protect your assets and your drivers.
Positives Results from Camera System.

Immediate Change in Driver Behavior
Video data contained great value regarding safety, liability and training costs.
External video can improve other safety issues, including poor driving behavior.
Studies show that reported accidents decrease of 88% after the installation of a DashCam.
With the UCIT line of Live Streaming DVR/Cameras, Fleet Managers can now take control of their fleet.
Fleet managers interested in improving their fleet Safety, as well as driver performance, Click Here
Improve Fleet Safety
For more information regarding this innovative new product, contact Nick Thacker at 888-286-9829, ext 103
Safety Track, a woman owned business, was established in late 2002. Throughout its growth, now reaching international status, Safety Track is committed to keeping that 'mom and pop' feel by making customers their top priority. Safety Track helps businesses and fleet owners alike maintain control over their vehicles; whether it's within Vehicle Fleet Cameras, GPS Tracking or a combination of both. While striving to make running a fleet easier, Safety Track's top priority it to promote safe driving habits, not only for fleet drivers, but for drivers everywhere.