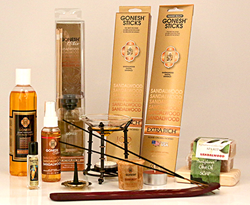 "We want our customers to be surrounded by their favorite scents wherever they are—in the car, at home, at the office, everywhere."
Chicago (PRWEB) March 02, 2015
Gonesh, a leading incense manufacturer, has debuted the Sandalwood Shop of home fragrance products.
The collection includes incense sticks and cones, ExtraRich sachets, tea light and votive candles, warming oil, spray air freshener, Thinkplanet® olive oil soap, reed diffusers, and perfume oils. Retail prices range from $1.99 to $9.99.
"Sandalwood is our best-selling fragrance," said Dana Morrison, president of Gonesh's United States operations. "We want our customers to be surrounded by their favorite scents wherever they are—in the car, at home, at the office, everywhere."
He pointed out that people like to experience fragrance in different manners. While incense is a common method for adding long-lasting ambiance to a room, the expanded Sandalwood Shop line brings the popular scent to those who use other types of products, as well.
"We know what our customers love and we want to give them more of it as conveniently as possible," said Morrison. "The collection also may introduce Sandalwood to new consumers who are not typically incense users."
Derived from the heartwood of the genus Santalum, Sandalwood is a soft, warm and earthy fragrance that has been valued for centuries. According to Morrison, the scent has an age-old reputation as being an aphrodisiac and has a similar smell as the human pheromone, alpha androsterole. It commonly is used to induce a calm or meditative state. Furthermore, new research indicates that exposure to the Sandalwood fragrance stimulates wound healing as the olfactory receptors in the outermost layer of skin react to the perfume.
Sandalwood Shop is just one of dozens of fragrances offered in the Gonesh product line. The company also offers a line of proprietary perfume blends as well as a broad selection of single-note fruits, florals, woods, and spices. Add to that a festive collection of holiday and seasonal fragrances and Gonesh is like no other.
Gonesh also uses the highest quality raw materials including its exclusive use of HighCharcoal™, another proprietary blend that ensures the purest, cleanest burn and crystal clear fragrances.
Gonesh products are sold in more than 35,000 retail stores nationwide including grocery and drug stores, beauty supply outlets, smoke shops, music stores, discount and dollar stores, and gift shops. Well-known retailers of Gonesh products include Kroger, Rite Aid, HEB, Albertsons, Ingels Markets, Meijer, Dollar General, Spencer Gifts, and 5 Below. Products are sold internationally, as well, and shipped to more than 30 countries.
All items from the Sandalwood Shop collection can be purchased online at http://www.Gonesh.com