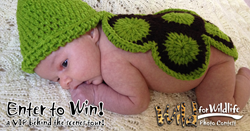 Silver Spring, MD (PRWEB) February 20, 2015
Those who have dreamed of sucking up treats like an anteater, waddling across a snowy plain like a penguin, or scaling trees like a monkey finally have a good reason to do so.
Animals Inc., the Association of Zoos and Aquariums' (AZA)-affiliated website featuring animals from AZA-accredited institutions, is encouraging families across the country to go "Wild for Wildlife" for a chance to win one of several animal-themed prizes. Participants are asked to take to Facebook and share photos of themselves, their children, parents, spouses, friends, or neighbors posing as wild animals.
"AZA wanted to find a fun way that we could promote our 'Friend of Zoos and Aquariums' membership category," said AZA President and CEO Jim Maddy. "What better way to show your support for AZA-accredited zoos and aquariums than by sharing a picture of you acting like your favorite animal."
Photos may include entrants dressing up as an animal, mimicking its behavior, tasting some of its favorite foods, or exploring its habitat.
The contest, which will be hosted on the Animals, Inc., Facebook page, begins on Friday, February 20, 2015 and runs through Sunday, May 17, 2015. Entrants are encouraged to use the hashtag #WildForWildlife on Facebook, Twitter and Instagram.
All United States residents ages 18 years and up are eligible to participate.
The best photographs will be selected by award-winning National Geographic photographer Joel Sartore. The public will be able to vote for their favorite finalist entry on the Animals Inc. Facebook page.
One Grand Prize winner will be awarded an unforgettable behind-the-scenes tour of an AZA-accredited zoo or aquarium for their family and a signed print from Joel Sartore's Photo Ark project. They will be able to choose from their local zoo or aquarium, or add this wild experience into their summer vacation plans to another state (travel not included).The winning entry will be also be featured as the "Photo of the Day" on the Kodak Alaris website and Facebook page.
The first runner-up will receive a photography prize pack, including a digital camera, two PNY 32GB Elite Performance High Speed SDHC Cards, a 3-in-1 HDMI Cable Kit, and a PNY 32GB USB 3.0 Flash Drive. The second runner-up will receive a PNY 32GB Elite Performance High Speed SDHC Card and a PNY 32GB USB 3.0 Flash Drive. Both runners-up will also receive signed prints from Joel Sartore's Photo Ark project .
Ten additional participants will receive a Zoo Tycoon game for XboxOne or Xbox360.
For more details and to enter, visit the Wild for Wildlife Photo Contest on the Animals Inc. Facebook page.
In addition to participating in the contest, those who are interested in further becoming engaged in wildlife conservation are encouraged to become a "Friend of Zoos and Aquariums." Individuals in this membership category will receive AZA's quarterly newsletter, "Explore," a full-color zoo and aquarium 12-month calendar featuring photography from AZA-accredited zoo and aquarium animals and a gift of an eco-friendly luggage tag and window decal to show their support for accredited zoos and aquariums. The Friend membership is $30 annually, or $50 annually to also receive the AZA's member magazine, Connect.
About AZA
Founded in 1924, the Association of Zoos and Aquariums is a nonprofit organization dedicated to the advancement of zoos and aquariums in the areas of conservation, animal welfare, education, science, and recreation. AZA is the accrediting body for the top zoos and aquariums in the United States and seven other countries. Look for the AZA accreditation logo whenever you visit a zoo or aquarium as your assurance that you are supporting a facility dedicated to providing excellent care for animals, a great experience for you, and a better future for all living things. The AZA is a leader in saving species and your link to helping animals all over the world. To learn more, visit aza.org.