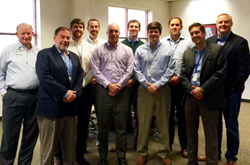 With cost shifting continuing in the form of higher out of pocket expense for employees, secondary insurance products are taking off in the market.
Covington, LA (PRWEB) February 23, 2015
Gilsbar is pleased to announce a partnership with Nationwide® and Crescent Medical Bridge to administer their newest offering, a supplemental medical insurance product for employer health plans.
Supplemental medical products help protect employees from high medical expenses by covering part of the ever increasing deductible and coinsurance levels, while remaining cost effective for employers.
"With cost shifting continuing in the form of higher out of pocket expense for employees, supplemental insurance products are taking off in the market," says Gilsbar's Chief Sales and Marketing Officer, Doug Layman.
Nationwide is one of the top ten insurance providers in the nation for property and casualty coverage as well as life and retirement products. Crescent Medical Bridge has quickly become known as a leading marketing organization for supplemental medical programs and will continue their successful role as the full service broker and program manager. The product launched February 1, 2015 and is marketed in most states.
Gilsbar's administrative team and innovative technology provides a seamless transition for current members while maximizing the new member experience. Sophisticated online portals and mobile app access allow members to view their claim and benefit information online and on-the-go, while in-depth plan reporting provides detailed insight for group and plan managers. Gilsbar, Crescent Medical Bridge and Nationwide look forward to growing this opportunity together.
Brokers or plan managers interested in learning more about supplemental health plans should call l-888-249-9002.
About Gilsbar
Established in 1959, Gilsbar® is one of the largest privately-held insurance services organizations in the country. Recognized as a catalyst for creating healthy businesses, Gilsbar® offers health and life benefit management services, as well as specialty liability insurance for professionals. These unique products provide innovative, unanticipated solutions that improve the health and well-being of its members, while delivering long-term cost-containment solutions for its clients.
Gilsbar® has been honored by Inc. magazine for its sustained growth, Modern Healthcare and Business Insurance magazines as a Best Place to Work, and WELCOA and the American Heart Association for its proven wellness methodology.
For more information, visit http://www.gilsbar.com.
Specialties: TPA & Association Services, Population Health Management, Wellness, Professional Liability, and Advocacy
About Crescent Medical Bridge
With nearly 100 years of experience, our team is proud of the invaluable connections we have cultivated throughout the insurance industry. Our product development expertise allows us to take a new or revamped look at traditional insurance coverage and create new product derivatives as the marketplace changes. We have actuarial capability, underwriting proficiency, and a broad understanding of insurance and reinsurance concepts. These core competencies have allowed us to create an important network of innovative and competitive product creations with the latest technology. Resolution Re strives to be a provider of quality, innovative, profitable insurance related products and services though our commitment to the highest standards of excellence to all of our customers.
About Nationwide
Nationwide, a Fortune 100 company based in Columbus, Ohio, is one of the largest and strongest diversified insurance and financial services organizations in the U.S. and is rated A+ by both A.M. Best and Standard & Poor's. The company provides a full range of insurance and financial services, including auto, commercial, homeowners, farm and life insurance; public and private sector retirement plans, annuities and mutual funds; banking and mortgages; pet, motorcycle and boat insurance. For more information, visit http://www.nationwide.com.