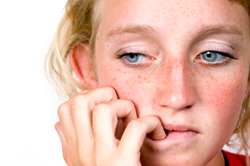 58% of people with eating disorders believe they will never be loved unless they have a perfect body.
Montreal, Canada (PRWEB) February 21, 2015
While body image issues and negative food attitudes are a major part of Anorexia, Bulimia, and Binge Eating, there is a deeper and darker side to these disorders. Statistics collected by Queendom.com through their Eating Disorders and Emotional Eating Test reveal that individuals dealing with eating disorders are often plagued by depression, anxiety, and other debilitating mental health problems. Researchers at Queendom.com urge sufferers to seek medical help as well as psychological counseling for a more well-rounded healing approach.
February 22 to 28 marks Eating Disorder Awareness Week, a campaign to bring attention to one of the most chronic mental health issues, and for good reason. Research by the Eating Disorders Coalition indicates that eating disorders have the highest mortality rate of any mental illness, with only 1 in 10 people seeking treatment.
Eating disorders are more than just a weight issue, however. After analyzing data from 465 people who have been diagnosed with an eating disorder, research by Queendom reveals that eating disorders are both a physical and psychological battle.
According to Queendom's study:

45% of individuals diagnosed with an eating disorder have low self-confidence.
58% believe that they will never be loved unless they have a perfect body.
56% crave other people's approval.
40% have a pessimistic outlook about their life and their future.
70% ruminate excessively and obsess about problems in their life.
56% find that their life is too stressful or difficult.
72% tend to have difficult overcoming failure.
Queendom's study also indicates that eating disorder sufferers are more likely to experience symptoms of depression and/or anxiety, including:
Persistent feelings of emptiness (63%)
Loss of interest in activities that they used to enjoy (50%)
Tendency to cry for no apparent reason (52%)
Feelings of worthlessness (53%)
Feelings of sadness (60%)
Feeling like they have nothing to look forward to (47%)
Feeling like they are losing control (69%)
Tendency to focus on upsetting situations or events (63%)
Chronic worrying (73%)
Fear of what the future will bring (61%)
Edginess and tension (63%)
"When it comes to eating disorders, we need to treat more than the physical repercussions, like nutritional deficiencies and unhealthy body weight," explains Dr. Jerabek, president of PsychTests, the company that runs Queendom.com. "It's unclear as to whether depression and anxiety are precursors to eating disorders or vice versa. What is clear is that there is significant comorbidity between eating disorders and anxiety or depression-related disorders. And that is aside from the fact that 57% of the people in our eating disorder sample indicated that they have experienced physical, sexual, or some other form of abuse."
"If we hope to help women and men who have eating disorders, we need to focus on both the physical side of the disorder as well as the underlying psychological factors. Otherwise, there is a significant risk of falling back into unhealthy and potentially dangerous eating habits."
Do you have a healthy body image and a healthy relationship with food? Go to http://www.queendom.com/tests/take_test.php?idRegTest=3127
Professional users of this assessment (therapists, life coaches and counselors) can request a free demo of the Self-esteem Test or any other assessments from ARCH Profile's extensive battery: http://hrtests.archprofile.com/testdrive_gen_1
To learn more about psychological testing, download this free eBook: http://hrtests.archprofile.com/personality-tests-in-hr
About PsychTests.com
Psychtests.com is a subsidiary of PsychTests AIM Inc. PsychTests.com is a site that creates an interactive venue for self-exploration with a healthy dose of fun. The site offers a full range of professional-quality, scientifically validated psychological assessments that empower people to grow and reach their real potential through insightful feedback and detailed, custom-tailored analysis.
PsychTests AIM Inc. originally appeared on the internet scene in 1996. Since its inception, it has become a pre-eminent provider of psychological assessment products and services to human resource personnel, therapists, academics, researchers and a host of other professionals around the world. PsychTests AIM Inc. staff is comprised of a dedicated team of psychologists, test developers, researchers, statisticians, writers, and artificial intelligence experts (see ARCHProfile.com). The company's research division, Plumeus Inc., is supported in part by Research and Development Tax Credit awarded by Industry Canada.