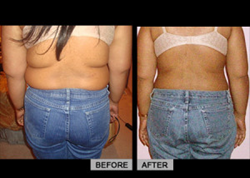 Diet Doc has created diet plans specifically for women that target and attack stored fat in the belly, hips, thighs and buttocks.
Jersey City, NJ (PRWEB) February 23, 2015
Women across the country are looking better and feeling more confident by losing excess belly, hip, thigh, underarm and buttock fat through Diet Doc's modernized prescription diet plans for women. The powerful combination of personal service, customized meal and snack plans and prescription diet products target fat that has become stored in the most stubborn to lose areas of a woman's body, forces its release into the bloodstream and burns it as the body's primary energy source. Women who have struggled with weight loss throughout their life are melting fat and losing pounds and inches at an amazing pace. In fact, the majority of over 20,000 actual patients report an average loss of 20 pounds or more per month.
While there is no one particular diet for women versus men, there is a difference in the metabolism of each gender and because a man's body is typically composed of more muscle than a woman's body, they do burn calories at a faster rate. For this reason, Diet Doc updated their already successful diet plans to include more personal attention to their female clients and now work more closely with women to uncover hormonal imbalances, cellular toxicity or improperly functioning organs that may be causing weight gain or preventing fast weight loss.
Diet Doc specializes in the science of safe and fast weight loss, enabling them to design diet plans for women that include prescription hormone diet treatments, appetite suppressants, powerful fat burners that boost the metabolism and safely, naturally and quickly burn embarrassing excess fat. Patients who are ready to lose dangerous and embarrassing excess fat once and for all can log onto http://www.dietdoc.com or simply call the experts. Each client can expect:

Real experts who intimately understand a woman's body and it's reaction to specific foods and fast weight loss methods;
A staff of specially trained fast weight loss professionals that include doctors, nurses, nutritionists and coaches, who are sincerely passionate about helping everyone improve their health and reach their ideal weight;
Easy to follow meal and snack plans that are designed to be specific to each woman's age, lifestyle, medical conditions and food preferences, that include a wide variety of food choices that leave women feeling full and satisfied;
Prescription diet products that are manufactured in fully licensed, FDA approved, U.S. based pharmacies that eliminate carbohydrate cravings, between meal hunger and loss of energy while attacking and burning old, stored fat at an amazing pace and that can be reordered easily and effortlessly via the phone or internet;
Medical supervision throughout, including scheduled weekly progress calls that enable the doctors to quickly recognize and address weight loss plateaus or unnecessary side effects, all without costly, time consuming and embarrassing doctor or weight loss clinic visits;
Unlimited access to their fast weight loss team who are always eager to offer their support, guidance and encouragement throughout;
Aftercare plans that teach women how to avoid regaining the weight they have worked so hard to lose.
Diet Doc has earned its reputation by providing safe and effective, medically supervised weight loss to people throughout the country and invite those who are struggling to lose that final 10-20 pounds to those who must lose 100 pounds or more to call the nation's leader in diet plans for women today.
About the Company:
Diet Doc Weight Loss is the nation's leader in medical, weight loss offering a full line of prescription medication, doctor, nurse and nutritional coaching support. For over a decade, Diet Doc has produced a sophisticated, doctor designed weight loss program that addresses each individual specific health need to promote fast, safe and long term weight loss.
Diet Doc Contact Information:
Providing care across the USA
Headquarters:
San Diego, CA
(888) 934-4451
Info(at)DietDoc(dot)info
http://www.dietdoc.com
Twitter: https://twitter.com/DietDocMedical
Facebook: DietDocMedicalWeightLoss
Linkedin: https://www.linkedin.com/company/diet-doc-weight-loss?trk=biz-brand-tree-co-logo