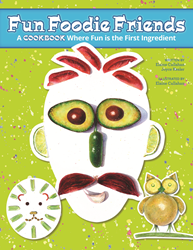 Atlanta, GA (PRWEB) February 25, 2015
BookLogix is pleased to announce the release of Fun Foodie Friends, the first book from local authors Elaine Callahan and Joyce Kesler. Parents and children alike are sure to be entertained by the exciting illustrations and simple instructions for each fun and healthy recipe.
Fun Foodie Friends is a cookbook where fun is the first ingredient in helping Kid Chefs make friends with their fruits and vegetables. Each recipe includes three key ingredients: creativity, fun, and, most importantly, fresh fruits and vegetables, which make up the foundation for healthy eating.
Each recipe in the book is accompanied by food-based works of art, designed by Elaine Callahan. "Kids can easily relate to the realistic but whimsical paintings, helping to make fruits and vegetables fun and friendly," said Callahan. With a background in graphic design, she wanted to create a fun way to incorporate the fruits and vegetables in the ingredient list—a departure from stylized photos of prepared foods found in other cookbooks.
"When fun is incorporated into cooking, kids feel more connected to the foods they help prepare," said Kesler. In this cookbook, budding Kid Chefs are not only treated to recipes that feature fruits and vegetables as their core ingredients, they can also enjoy the inspiring artwork that lets them know playing with their food is acceptable. Kids who are engaged with creative play and healthy food preparation tend to eat healthier, and then want to stay healthier.
# # #
Note to Media: Elaine Callahan and Joyce Kesler are available for interviews. To schedule an interview, please contact Caitlin Wells at 470-239-8547 or Caitlin(at)booklogix(dot)com.
About BookLogix
BookLogix is a professional publishing house that supports authors and independent publishers. Located in Alpharetta, GA, BookLogix publishes a variety of fiction and nonfiction books. Learn more at BookLogix.com.