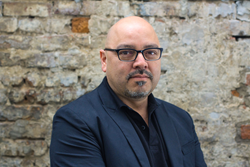 I'm basically just going to add whatever I can to Ready State's awesomesauce.
San Francisco, Calif. (PRWEB) February 23, 2015
Ready State, a marketing agency pioneering a lean, transparent, and collaborative approach, has hired award-winning producer and creative powerhouse Drew Saucedo to be the agency's new director of production.
"Ready State has a special kind of creative approach," says Saucedo. "I'm looking forward to complementing that with my studio experience, my trusted production partners, and my own creative eye. I'm basically just going to add whatever I can to Ready State's awesomesauce."
Saucedo comes to Ready State with a number of major accomplishments under his belt. While at Pereira & O'Dell, he helped create Snoop Dogg's coveted "Rolling Words" book, the pages of which were made from rolling papers. The book caused a sensation at Coachella and earned Gold and Bronze Lions at Cannes, Gold and Bronze Clio awards, and Silver and Bronze awards at One Show.
Another professional success came at Comic-Con when Saucedo and his team unveiled the Skype Lounge, an Airstream trailer designed by reMADE and executed by West Coast Customs that gave people a space to chill out and contact their friends via Skype. The trailer was covered by a number of ad industry publications, including Adweek, and featured on Velocity Network's Inside West Coast Customs.
Other accolades for Saucedo have come as a result of his work on the B Honey Cachaca packaging which won him a HOW International Design Award and a Silver at The Dieline Awards.
"I'm very glad to have Drew onboard," says Ian Clazie, Co-Founder and Chief Creative Officer at Ready State. "When it comes to getting cool things made, Drew brings us ways to do it better, cheaper and more creatively every time."
Saucedo represents the latest in a string of notable hires that strengthen Ready State's position in the marketplace. Among those recently brought on board at the agency are Elaine Choi, Marketing Partner (former director of marketing at The Cheesecake Factory) and Derek Slater, Content Director (former editor in chief at FierceMarkets' Enterprise IT and Finance publications).
About Ready State
Ready State was founded to provide marketing services that meet the needs of modern marketers. Today, the company is made up of strategists, creatives, designers, and journalists. The result is a new kind of agency that combines these disciplines in unlikely ways to create things that work for companies and customers. Headquartered in San Francisco, Ready State's clients include Google, Intel and HP, as well as a variety of startups.