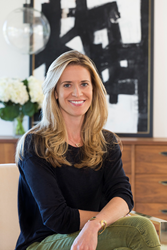 San Francisco, CA (PRWEB) February 20, 2015
On Sunday, February 22nd, San Francisco interior designer and film producer Blye Faust of ByBlye Interiors will premiere a fabulous furniture and vintage jewelry collection curated exclusively for online vintage design marketplace Chairish. Blye will be curating a collection of unique vintage finds from Chairish's inventory of over 25,000 items, drawing inspiration from the glamour of sleek 1920s cityscapes. The designer chose pieces that harken back to the decor in black and white Hollywood classics such as The Fountainhead, and silent films The Kiss and Metropolis. Blye's Chairish collection will feature an array of luxurious items such as chic velvet armchair sets, classic burl wood coffee tables, and geometric brass sconces. Highlights of the collection include iconic vintage pieces from Milo Baughman and Robert Sonneman.
An avid traveler with a true California aesthetic, Blye aims to imbue every room, whether commercial or residential, with a sense of personal history that reflects the client's true passions. By mixing vintage and new pieces, Blye creates cohesive rooms that each have their own stories to tell. Her design firm, ByBlye, offers both traditional full-service design as well as a la carte services customized for smaller scale design needs.
Blye's collection will be available exclusively online at Chairish.com on Sunday, February 22nd. Prices will begin at $75. For more information, visit https://www.chairish.com/collection/the-blye-faust-collection.
About Blye Faust
With a career in entertainment under her belt (as both a film and television producer and an attorney), travels far and wide across the globe (skipped Antarctica but covered every other continent), and having lived throughout the jaw-droppingly beautiful state of California (Los Angeles, Santa Barbara, and now San Francisco), Blye brings a vast collection of experiences to her role as a designer. Nothing makes her more excited than combining old and new, high and low, and any other dichotomous pairing you can dream up into a cohesive narrative that achieves a distinctive vision. Blye holds a BA from Santa Clara University, a JD from UCLA, and her film, "Spotlight" starring Academy Award nominee Michael Keaton and Mark Ruffalo is slated for release later this year.
About Chairish
Chairish.com and their mobile app make it fun and easy for design lovers to buy and sell vintage and pre-loved furnishings, decor, jewelry and accessories. Chairish exclusively features curator-approved treasures in a full service and trustworthy environment. The site delivers inspiration, convenience, and newfound value to both buyers and sellers who share an obsession with fabulous finds.