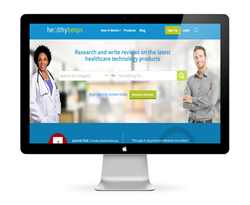 Seattle, WA (PRWEB) February 22, 2015
Earlier this month efelle creative launched Healthy Beeps, a review platform for various healthcare technology services and solutions. efelle's MemberFusion content management system allows them to manage their website through integrated blogging capability, organic SEO, and an eCatalog system that lets them easily add, organize, and filter new healthcare products and services for easy user navigation.
Healthy Beeps is a Seattle company dedicated to connecting consumers and providers with the best healthcare technology products and services. They were looking for a revitalized, professional aesthetic which included comprehensive branding services and logo development to strongly position them in the competitive healthcare technology industry. Responsive design was also implanted in their website design to ensure both current members and prospective users could access the site from all devices and locations.
MemberFusion is the first fully-integrated marketing and management platform designed specifically for organizations and associations. The FusionCMS system and MemberFusion platform allows organizations to easily manage and update their website content instantly. Whether you're adding new products and membership listings or handling online contact requests, no prior HTML knowledge or experience is necessary. The platform also allows organizations to easily grow their membership through online registration functionality and Customer Relationship Management (CRM) tools.
Click here to see Healthy Beeps' new site.
To check out other websites that use the MemberFusion system, visit efelle's online portfolio.
About efelle creative
efelle is Seattle's premier custom web design and development firm, with high level organizational clients in the consultative, educational, and medical industries. After 10 years and more than 550 clients, efelle has grown into a full team of designers, developers, and online marketing professionals that continue to provide competitive online marketing solutions for clients across the country. With each custom website efelle places a strong emphasis on organic SEO and industry leading design techniques, illustrated by their 34 national and international design awards received in 2014 alone.
In addition to our organizational management platform, efelle offers high level website content management systems specifically designed with professional service listings, ecommerce, property management and more. Give us a call at 206.384.4909 or fill out our online contact form to speak with an online marketing specialist to learn how we can take your business' website to the next level.