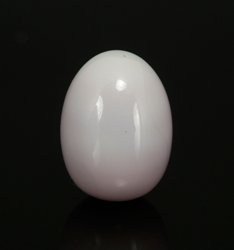 "I was stunned and excited when I first saw this beautiful lavender pearl I am even more stunned at the media attention the story is getting." -Harry Morgan, Director of Appraisal Services.
Beverly, Massachusetts (PRWEB) February 20, 2015
Kaminski Auctions' March 15th Spring Estate sale will feature a range of Fine jewelry, decorative arts, Asian antiques, and several impressive works of fine art.
Pearls are the highlights of the jewelry section this March, with a rare single lavender quahog pearl found by a local police officer in his seafood soup as the star of the show. The six plus carat pearl is a rare non-nacreous pearl from the mollusk Mercenaria mercenaria. The pearl is accompanied with a detailed GIA pearl report.
The occurrence of a gem quality quahog pearl is estimated to be one in two million. Rare quahog pearls are mostly found by accident during home processing or consumption. The story has been covered by numerous local and national media outlets including The London Daily Mail, Good Morning America, CBS television and ABC.com, and has taken on a life of its own.
Collectors will also be interested in an exquisite 18 carat gold Mikimoto Akoya pearl and diamond collar necklace and earring set. Housed in its original box, the pearls range in size from 3.5 to 7.2 mm and are interspersed with fourteen diamonds, with three diamonds on the clasp. The set includes matching earrings with pearls and five diamonds and has the original Mikimoto receipt. The lot is estimated at $3,000-$5,000.
The many sterling lots in the sale includes an extensive set of Buccellati sterling flatware, service for twelve in the "Anacapri" pattern estimated at $9,000-$12,000, and a Theodore Starr fancy, sterling floral punch bowl approximately 41.1 troy oz. TW estimated at $2,000-$3,000.
A recently discovered folk art painting of twin boys from a Maine estate valued at $10,00-$20,000 is the highlight of the fine art portion of the sale, as well as a still life with apples, signed "Joseph Decker" and dated 1896 valued at $4,000-$6,000. Other art in the sale includes offerings by AJ Munnings, John Caggiano, Alfred Hart, and John Campbell Phillips.
From a Florida estate comes a rare Polyphon cylinder music box and tall clock combination; coin operated, with original finish and having 38 discs in the original case it is valued at $10,000-$20,000.
Sevres, Meissen and fifty lots of Wedgwood, important Persian carpets and a selection of Asian items including a Ming Dynasty gilt bronze Buddha and a Japanese Meiji bronze statue make this an auction for every collector.
Preview for this sale is Thursday, March 12th- Saturday, March 14th and day of sale at 8:00 am. For more information -978-927-2223 or go to http://www.kaminskiauctions.com and sign up to bid with KaminskiLIVE.