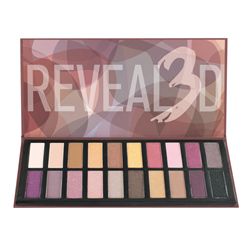 An eye shadow palette beyond anything Coastal Scents has ever produced.
Naples, FL (PRWEB) March 06, 2015
Coastal Scents launches the newest in the Revealed eye shadow palette series, Revealed 3.
Adding to the highly popular Revealed palette series, The Revealed 3 features twenty all-new elegant paraben-free eye shadows, in a stunning variety of hues and textures– including a color similar to Marsala: Pantone's Color of the Year 2015. Discover infinite possibilities with a combination of looks, perfect for every eye color.
Founded in 2005, Coastal Scents launched into the e-commerce world with a single vision, "To provide high-quality beauty products at the best prices, while offering unparalleled customer service." As Coastal Scents has grown, the product line has expanded from just a handful of products, to a large unique assortment of superior makeup, fine cosmetic brushes, and a wonderful selection of all-natural skin care products.
If you would like more information about Revealed 3, please visit http://www.CoastalScents.com.