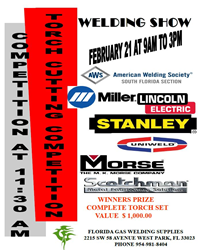 This event will be held at 2215 SW 58th Ave, West Park, FL, 33023 from 9:00AM to 3:00PM on Saturday, February 21, 2015
West Park, Florida (PRWEB) February 20, 2015
Join Uniweld for a welding show by the AWS South Florida Section on Saturday, February 21, 2015. Florida Gas Welding Supplies will be hosting the competition which will be held at their West Park location: 2215 SW 58th Ave, West Park, FL, 33023 from 9:00AM to 3:00PM.
Uniweld will be one of many other sponsors with a table showing off various products. Uniweld employees will be present to instruct competitors participating in the cutting competition how to properly cut using an oxyacetylene outfit. The competition will be from 11:30AM – 2:30PM and will involve cutting an 8 inch thick by 4 inch wide piece of steel with an oxyacetylene torch. The judging will be based on time, quality, and technique. It only costs $5 to participate in the competition with prizes worth $1000. The event is an open house event and Uniweld Products urges everyone to come, watch, participate and learn more about their line of products. For more information click here to go to the AWS South Florida Section on Facebook.
Uniweld Products, Inc. is a U.S. manufacturing company headquartered in Fort Lauderdale, Florida. Established in 1949, the company has expanded into one of the major manufacturers in the welding, HVAC/R (Heating, Ventilation, Air-Conditioning and Refrigeration), plumbing, and alloys markets.
Uniweld's product line includes U.S. Made welding, cutting, brazing and heating outfits, refrigeration tools, vacuum and charging hoses, welding, brazing and cutting tips, accessories, pressure gauges and alloys. Uniweld operates and maintains distribution facilities in Florida, Texas, California, Ontario, and Saskatoon, and has sales offices in South America and the Middle East. The company takes pride in its manufacturing excellence, product innovation, financial stability, community, and genuine concern for its customers and the environment throughout the world.