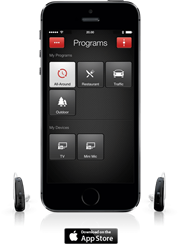 Receive calls and listen to music with a wireless connection between your iPhone and hearing aids.
Clarksburg, W.Va. (PRWEB) February 27, 2015
Nardelli Audiology is proud to offer West Virginia the most advanced digital hearing aids to date. Described by the manufacturer as "the world's smartest hearing aid," the ReSound LiNX™ not only provides top-quality sound amplification but also can connect wirelessly to compatible Apple iPhone, Ipad, or iPod Touch devices.
By connecting the ReSound LiNX™ hearing aids to a portable Apple device, the user gains access to several features, all wirelessly delivered to the hearing aids. The user can receive calls, listen to music — even receive turn-by-turn GPS navigation — all sent directly to the hearing aids in high definition and without the presence of background noise.
Additionally, the ReSound LiNX™ hearing aids can turn the compatible Apple devices into hearing aid remote controls. From the Apple device, users can fine-tune the volume, treble, and bass of incoming sound in addition to switching between the environmental presets programmed by their hearing specialist. With maximum, easy-to-access control, hearing can be optimized in any listening situation, including busy restaurants and noisy stadiums or theaters.
For individuals suffering from tinnitus, a condition characterized by a persistent ringing in the ears, the ReSound LiNX™ contains built-in sound therapy options that can mask the ringing, providing much-needed relief. And if an individual has other sounds or music they normally use to help mask their tinnitus, those sounds and music tracks can typically be streamed as well.
While these are some of the primary features, the possibilities are limited only by the number and variety of applications users have installed on their Apple devices. Any frequently used applications can deliver high quality sound directly to the hearing aids, allowing users complete flexibility in enjoying all of their favorite applications.
If you would like additional information about the ReSound LiNX™ hearing aids, or if you would like to schedule an appointment to get fitted for one, visit http://www.nardelliaudiologists.com or call the contact numbers below.
About Cynthia Nardelli, M.S., CCC-A
Cynthia Nardelli is a certified audiologist and has been the owner of Nardelli Audiology since 1991. Cynthia has over 31 years of audiology experience and specializes in the fitting and programming of advanced digital hearing aid technology. She holds a Bachelor of Science in Speech Pathology & Audiology and a Master of Science in Audiology from West Virginia University.
About Nardelli Audiology
Nardelli Audiology is a full-service audiology practice with locations in Clarksburg, Bridgeport, and Farmington West Virginia. Using state-of-the-art equipment and compassionate care, Nardelli Audiology offers comprehensive hearing tests, hearing aid evaluations, fittings, cleanings, and service and repair for all hearing aid models. With services delivered in a relaxed and comfortable atmosphere, Nardelli Audiology is West Virginia's leading destination for better hearing.
Contact
Cynthia Nardelli, M.S., CCC-A
http://www.nardelliaudiologists.com
Three convenient West Virginia locations
Nardelli Audiology - Clarksburg, WV
95 Rosebud Plaza Drive, Suite 112,
Clarksburg, WV 26301
(304) 931-4089
Nardelli Audiology - Bridgeport, WV
111 Steele Street,
Bridgeport, WV 26330
(304) 933-4329
Nardelli Audiology - Farmington, WV
100 Main Street,
Farmington, WV 26571
(304) 825-2063