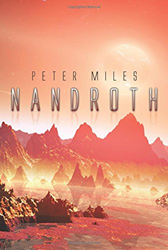 I enjoyed science fiction, and it came naturally to me to imagine my own scenarios.
ADELAIDE, Australia (PRWEB) February 20, 2015
Reading gives us someplace to go when we have to stay where we are.
In his new book "Nandroth," author and retired entomologist, Peter Miles, dabbles in the world of science fiction and fantasy. Miles creates vivid characters and paints the far-off world of Nandroth, keeping readers engaged and entertained from start to finish.
"I enjoyed science fiction, and it came naturally to me to imagine my own scenarios," Miles said.
Miles is a well-published entomologist with many printed scientific and research articles, including yearly contributions to The Encyclopaedia Britannica Year Books 1968-1987 inclusive. Retirement has led him to writing works of fiction, including his first Sci-fi novel "Nandroth."
In "Nandroth," a computer scientist with broad, mechanically inclined hobbies, is working on a prototype matter transmitter. In an instant, he finds his consciousness transmitted across space, leaving him no longer Axel of Earth, but Lexar of Nandroth.
"Nandroth" follows Axel-Lexar on his quest to help the Androthi people of Nandroth in their struggle against space travelling Mekkans, artificial intelligences determined to dominate living creatures throughout the universe.
"Nandroth" is complete with in-depth characters and a technical and complex plot. Readers will be swept away into a new world and storyline they can relate to in their own personal plights.
"Nandroth"
By Peter Miles
ISBN: 978-1-4990-2773-0
Available in softcover, hardcover, e-book
Available on Amazon, Barnes & Noble and Xlibris
About the Author
Peter Miles graduated from Rhodes University with a degree in Chemistry and Entomology and worked as an agricultural scientist. He later studied at The University of Cambridge where he received a Ph.D. in Insect Biochemistry and Physiology. Miles currently resides in Australia and has written nearly 100 scientific articles and research publications, including more recent works of fiction and Sci-fi novels.
# # #
**FOR IMMEDIATE RELEASE**
For review copies or interview requests, contact:
Daniel Pearson
317.602.7137
dpearson(at)bohlsengroup(dot)com