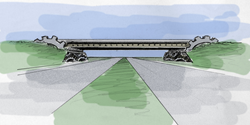 "A community's infrastructure represents a unique, three-dimensional medium for displaying a brand."
(PRWEB) February 24, 2015
Leaders in Lima-Allen County, Ohio have committed their community brand to concrete. The brand – developed by place branding experts North Star Destination Strategies in 2009 – is grounded in the line "Real American Strength" based on the community's strong manufacturing history. The logo, featuring abstract gears, will be integrated into interchanges and bridges along the Interstate 75 Corridor in a kind of functional branded art. The project is taking place in partnership with the Ohio Department of Transportation (ODOT).
The opportunity to submit input for these plans was the catalyst for the Lima-Allen County's pursuit of a community-wide brand. "We needed to know what Lima was all about before we submitted these plans," explained Jed Metzger, President and CEO of the Lima/Allen County Chamber of Commerce at the time of the project. "We had already tried to brand ourselves several times. Those brands never stuck because they were not objective and all encompassing."
"North Star brought objectivity and a nationwide point of view to the table and came up with a brand that the community has rallied behind. We are thrilled to see the fruits of our efforts with ODOT and North Star Destination Strategies on display today in such an impactful way," Metzger concluded.
The second phase of the three-part Interstate 75 project was completed at the end of 2014. The identity of the region is now clearly defined to the nearly 40,000 vehicles that pass through the area every day. Interchanges and bridges feature Lima-Allen County's logo, strapline, "Real American Strength," and are painted blue to reflect the brand color palette. ODOT reported that they believe Lima-Allen County is the first in the state to define their region aesthetically on the interstate.
"A community's infrastructure represents a unique, three-dimensional medium for displaying a brand," said Don McEachern, CEO and President of North Start Destination Strategies. "We are proud that a regional brand that points to a heritage of strong transportation innovation, like the Abrams Tank and Lima Locomotive, is now featured so prominently on Ohio's roadways."
ODOT has created a video that highlights the scope and significance of this $150 million project with Lima-Allen County: http://youtu.be/dUhxAVjd6Us.
North Star is a full-service community branding agency in Nashville, TN with a standalone research division. Having worked with more than 200 communities across the nation, North Star is considered an industry leader in helping communities become more competitive. Areas of expertise include local, regional and statewide economic development, tourism and municipal government. Branded deliverables, such as the initial renderings of the Lima-Allen County overpasses, are a critical part of the North Star branding process.