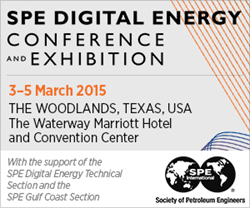 Houston, TX (PRWEB) February 24, 2015
WellEz is pleased to announce they'll be exhibiting at the SPE Digital Energy Conference 2015. The conference and exhibit will take place in The Woodlands, TX at the Woodlands Waterway Marriott March 3-5.
The SPE Digital Energy Conference and Exhibition is an international event that addresses key aspects of digital oil field developments. It will have an increased focus on the application of digital technologies to improving business capabilities. The technical program will revolve around business themes of interest to the traditional digital energy crowd and practicing engineers not typically involved with digital energy. This conference serves as a unique forum for digital oil field specialists to exchange ideas and collaborate on challenges, opportunities, and solutions.
As an exhibitor, WellEz will be demonstrating the new updates and features in the latest release of their application. By providing cloud based data capture and operations reporting, including drilling, completion, and workover, WellEz allows operators to utilize a powerful data entry and reporting database, quickly and easily. This powerful database removes the limitations inherent in Excel databases and eliminates the complexity of traditional software based reporting systems. WellEz fits in any IT environment, integrating using either web services or XML data feeds to eliminate data silos and facilitate organizational workflows. The additional benefits of a web-based reporting system includes quick and cost efficient setup that results in a fully tailored solution for operators of any size.
During the conference, WellEz will be previewing the upcoming 2015 releases of their application. Some of the key application enhancements include location level data capture and reporting. This includes cost allocation from pad level to wells and built-in customize cost contingencies for each job. WellEz will also be previewing their Daily Production Volume reporting including run tickets and sales meters. Additionally, WellEz is proud to be partnering with Spotfire to provide clients greater capability to visualize data with their new Business Analytics reporting solution. Finally, WellEz will be sharing the new look and feel of their application with an updated design and workflow for increased ease of use and an improved user experience. To learn more about these updates, visit WellEz at booth #406.
The conference will also include an exhibit, a number of networking events, and a technical program. Click here for more information about the events schedule, visit the SPE Digital Energy Conference website.
About WellEz
Founded in 2000, WellEz Information Management is a privately held, international oilfield service company located in Houston, Texas. The leading provider of field reporting tools for drilling, completions, and other operations, WellEz is staffed by experienced oil and gas professionals and a team of highly qualified software developers. The company's web-based field software for well lifecycle reporting is the comprehensive solution to limitations, user difficulties, and support issues that are often encountered with traditional reporting software.