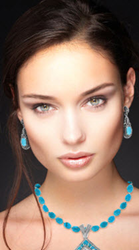 "For thousands of years, the turquoise gem has been worn in rings, necklaces, bracelets, and more so that the person may carry the luck throughout their life."
Phoenix, AZ (PRWEB) February 23, 2015
It's nothing new that fashionable trends are recyclable. What was once must-have wear becomes retro and unexpectedly edgy years later. Trends are tweaked and modified to retain their origins but display a modern look. One such example of this is turquoise gem jewelry.
"The turquoise gem has been present in jewelry and art for thousands of years as it is a natural stone with stand-alone beauty," said TurquoiseJewelry spokesperson Jack Burch. "Particularly in Native American cultures, it is a stone believed to have many powerful influences on the wearer."
Burch explains that the turquoise stone ranges in size, shapes, colors, hues, and density. It is believed that the energy it gives to the wearer is focused on luck, love, protection, and healing – all positive traits that many Native American cultures created turquoise jewelry in the hopes to achieve these blessings.
"Luck is the strongest belief associated with turquoise, and so it has historically been considered a gem to wear when seeking good fortune," said Burch. "For thousands of years, the turquoise gem has been worn in rings, necklaces, bracelets, and more so that the person may carry the luck throughout their life."
Today, turquoise still is known among many as the "Lucky Stone". However as society has evolved, the gem and the color of turquoise has been adapted to serve another function – fashion.
On the runways of the NYFW spring shows, turquoise beaded bracelets, turquoise pendants strung on silver chains, and more could be seen worn with this season's newest trends. Crop tops, midi skirts, dipped necklines, and one piece suits that strutted across the stage gave fashionistas a glimpse of the blue and green stone incorporated to make the 21st century fashion meld seamlessly with bits and bobbles of thousand-year old décor.
"High heels were originally made for men, and now women have transformed them into a staple of their wardrobe. Ruffled hip-gathered fabric of the 14th century evolved into peplum style one-pieces. It's no surprise that a stone as gorgeous as turquoise has survived and evolved with fashion."
TurquoiseJewelry.com has recently added numerous pieces of stylized and natural turquoise gem jewelry to match the NYFW runway styles and stay true to the cultural and historical looks of Native American jewelry. The jewelry ranges from rings to large pendants, and each stone is detailed for the user to identify its origin.
For more information about bringing turquoise jewelry to your modern wardrobe, visit TurquoiseJewelry.com today.