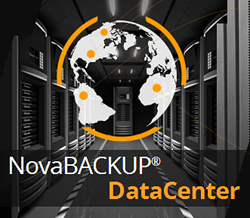 Once again the new features of NovaBACKUP DataCenter 5.3.1 simplify the backup procedures for IT technicians and administrators.
Agoura Hills, CA (PRWEB) February 24, 2015
NovaStor, an international provider of award-winning backup solutions, announced today the release of NovaBACKUP DataCenter 5.3.1. With the update NovaStor continues to provide more flexibility and security within backup software for CIO's, IT Service Provider, and administrators.
The new User Management tool provides IT administrators with the ability to specify the rights and rolls for either remote offices, company departments or dedicated technicians. To prevent accidental data loss and reduce complexity users can now define organizations within the company, and setup groups and users. Adding rights ensures that the user's interface shows only the enabled menus and functions and therefore keeps the information relevant and easy to read.
With 8 new features, 33 improvements and many stability adjustments, NovaStor's development team worked hard to extend the usability and the stability of NovaBACKUP DataCenter. Users can now rerun failed backup jobs directly from the reporting UI; independent and raw disks can now be excluded for VMware backups; and NovaBACKUP DataCenter recognizes Windows Mountpoints to backup logical drives without an assigned drive letter.
"Usually, we get a similar feedback from our customers. They are looking for an easy to use data protection solution that doesn't break the bank, and also remains reliable, scalable, and stable," says Mike Andrews, Managing Director at NovaStor Corporation. "Our mission is to provide the fastest, most scalable and cost-effective network backup & restore solution. Once again the new features of NovaBACKUP DataCenter 5.3.1 simplify the backup procedures for IT technicians and administrators."
NovaBACKUP DataCenter is a hardware and storage agnostic network backup solution that protects IT environments with physical and/ or virtual machines running Windows and Linux. The key to NovaBACKUP DataCenter's performance and scalability is its architecture that provides several mechanism for fault tolerance, peak performance and maximum data availability. A simple, all-inclusive licensing model keeps the IT budget in balance, and NovaStor engineers based in the US and Germany, offer local technical support (never outsourced) to make sure that the business critical data stays safe.
More information about:
NovaBACKUP DataCenter
About NovaStor
NovaStor® (http://www.novastor.com/) is an international provider of powerful, affordable, all inclusive data-protection solutions for physical and virtual environments. NovaStor provides backup & restore solutions to Small and Medium Business (SMB) as well as Enterprise environments to protect data on Both Sides of the Cloud. NovaStor's SMB solution NovaBACKUP® is rated #1 for businesses requiring local and remote protection of Windows Servers, VMware, Hyper-V and NAS environments with advanced monitoring capability, detailed reporting, and administration from a Central Management Console. NovaStor's Enterprise solution NovaBACKUP DataCenter brings F500 references, scalability, reliability and speed to medium-large heterogeneous environments; a single pane of glass designed to reduce administrative effort and lower TCO. NovaStor' Setup Assistance is an industry first where experts relieve clients from the complexity of installation and support. NovaStor is management-owned with over 1,000 partners, and millions of seats distributed. With global headquarters located in Zug, Switzerland and offices in Germany (Hamburg) and the USA (Agoura Hills), NovaStor is also represented in numerous other countries through partnerships.