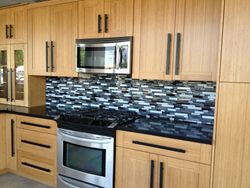 Modern RTA Cabinet is a Great Choice for the Kitchen Remodeling Project
Anaheim, CA (PRWEB) February 28, 2015
This season CabinetDIY introduces the new and trendy modern style RTA Cabinets. As a trusted supplier for trendy, low priced quality RTA cabinets for the kitchen and bathroom area, CabinetDIY has become one of the most recommended companies in their industry. The new collection will bring style to the home where the customer has a large selection of colors and designs to choose from with the option to purchase RTA Cabinets as fully assembled or un-assembled knock-down design.
The new style RTA Cabinets include: ECO-Friendly Natural Bamboo Shaker, European Teak Flat Panel, European White Flat-panel. All the modern style RTA Cabinets have frame-less design. The door style is clean and simple. The drawer and door hardware is soft closing motion. The 3/4" thick plywood body box gives the cabinet extra strength.
Before CabinetDIY made RTA cabinets trendy, the idea of ready to assemble furniture was limited to bookcases, tables, chairs, and television units. Now the idea of RTA kitchen and bathroom cabinets has become popular. No longer do consumers require a joiner or handyman to build cabinets and install them, that is down to the quality of CabinetDIYproducts and the ease in which their cabinets can be assembled.
Through CabinetDIY, RTA cabinets give homeowners the opportunity to modernize their homes for the fraction of the price. Without compromising on quality, consumers can bring life to their bathrooms and kitchens without worrying about affordability. With the option to purchase RTA Cabinets as fully assemble or un-assembled knockdown design, CabinetDIY stands out from other RTA suppliers.
CabinetDIY goes the extra mile in providing a quality service to their customers. They provide a Free 3D Professional Design service and Free Nationwide door to door shipping service. Once the customer receives their products, they have the option of reducing time and having their cabinet installed without delay.
The quality kitchen and bathroom cabinets can be found by visiting their website, where customers can see all the latest designs and special deals. The site has been designed to make it user-friendly for the customer to use, and allow them to find out the products they need to modernize their home.
For customer inquiries, there are two telephone numbers available, 1-888-966-1681 or 1-949-427-8338. To learn more about CabinetDIY, please visit http://www.cabinetdiy.com/
About CabinetDIY
The company was founded by a group of passionate interior designers and professional cabinet makers. All members of the design team have professional interior design background, and at least five years or more actual construction field experience.