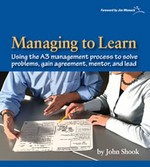 Fundamental and Advanced Lean Management Concepts Addressed in 4 Workshops by Cambridge-Based Lean Enterprise Institute.
Cambridge, MA (PRWEB) February 24, 2015
A comprehensive winter-spring roster of workshops announced today by the Cambridge, MA-based Lean Enterprise Institute (LEI) will show executives, managers, and continuous improvement professionals how to implement and sustain lean management systems, behaviors, and company cultures.
The four sessions will run from 8 a.m. to 4 p.m. at LEI's office, 215 First St., Cambridge, MA. The sessions are:

Managing to Learn: The Use of the A3 Management Process, March 24 - 25
Practicing Lean Fundamentals in an Office Environment, March 31 – April 1
Integrating Visual Management Tools and Leader Standard Work, April 2
Strategy Deployment and Alignment through Hoshin, April 22 – 23
Information about course content, instructors, tuition, discounts, and how to register are available by calling (617) 871-2900, emailing the registrar at registrar(at)lean(dot)org or by visiting the training page at: http://www.lean.org/workshops/workshopcalendar.cfm?cureventid=200
About the Lean Enterprise Institute
Lean Enterprise Institute Inc., is a 501(c)(3) nonprofit based in Cambridge, MA, with a mission to makes things better through lean thinking and practice. Founded in 1997 by management expert James P. Womack, PhD, LEI conducts research, teaches educational workshops, publishes books and ebooks, and runs conferences to advance lean thinking and practice around the world. We support other lean initiatives such as the Lean Global Network, the Lean Education Academic Network, and the Healthcare Value Network. Visit LEI at http://www.lean.org for more information.