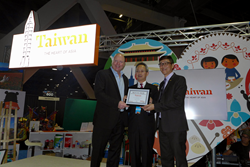 Los Angeles, California (PRWEB) February 21, 2015
America's biggest annual Los Angeles Travel & Adventure Show is here again over this weekend! Taiwan Tourism Bureau in Los Angeles hosted yet another innovative and festive Taiwan Pavilion this year on February 21st and 22nd at the Long Beach Convention Center, where it showcases the six themes in the "Time for Celebration 2015 - Taiwan Tourism Events Calendar" including Time for Love, Time to Marvel, Time for Two Wheels, Time to Shop, Time to Eat, and Time for Nature.
Taiwan Pavilion is the winner of the Best of Show Award for the fourth consecutive year with unique and thoughtfully designed activities. " Once again Taiwan Tourism stole the show this past weekend at the Travel & Adventure Show in San Diego," stated John Golicz CEO of Unicomm the event organizer. "They executed their front row pavilion well, but it was the energy of the very friendly, informative and hospitable experts manning the Taiwan booth that drew non-stop crowds all weekend. I believe thousands of San Diego and Los Angeles Travelers have put Taiwan on their must visit list!"
This year, the Taiwan Pavilion features all-time favorites such as the Three Techno Prince dance performance, Taiwan bubble tea tasting, bubble milk tea shaking competition, live music performance of Taiwanese traditional, pop and folk music by String and Bamboo Music, and Taiwanese night market beer bottle game. In addition, a brand new interactive photo booth is created for event attendees to enjoy a virtual Tour Taiwan experience. Participants can choose their favorite photo backgrounds from a wide selection of the breathtaking Taiwan sceneries. A limited amount of the adorable special edition "Year of the Ram" lanterns are also available at the event. The little ram lanterns have special interchangeable designs; they are the most popular and beloved items for all ages at the event. The authentic Taiwanese restaurant, Popcorn Chicken, also did a special demonstration at the culinary stage for the audiences to experience some of the most famous Taiwanese snacks. Lastly, for participants showing support on the official "Tour Taiwan" Facebook page, they can also receive a Lucky Red Envelope according to their zodiac sign in celebration of the Lunar New Year along with Taiwanese restaurant dinning coupons (sponsored by Culture Center of Taipei Economic and Cultural Office in Los Angeles).
According to Mr. Trust Lin, Director of the Taiwan Tourism Bureau in Los Angeles, the Bureau is promoting a limited incentive package called the "2015 Sample Taiwan 3D/2N Special Offer," which runs through March 31st specially designed only for North American travelers. For visitors who are traveling with a partner (who will be sharing a room together) and both will be entering Taiwan with a valid U.S. or Canadian passport, at a special promotional rate of $100, they will receive free airport pick-up service, two nights' accommodations at a Taiwan's five-star hotels (including breakfast for two, taxes and service fees), a limited edition Taipei MRT Card (NT$50 stored value), and a Taiwan Giveaways voucher booklet (valued at over $300). For full details, please visit http://www.go2taiwan.net/b2c/Registration.php.
At the Taiwan Pavilion, travel agents and airline representatives are on-site to provide in-depth information on Taiwan and Taiwan tour packages for event attendees. Audiences also got a chance to enter a grand prize lucky draw of amazing giveaways by collecting 3 different stamps from participating travel partners. The grand prize this year was a daily drawing of one Los Angeles-Taipei roundtrip flight ticket sponsored by EVA Air and China Airlines. China Airlines also offered five LAX/JFK to Taipei premium economy class upgrade coupons per day for the raffle.