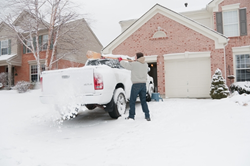 With the rise in employment numbers, a gain in consumer wages could help increase housing demand.
Chicago, IL (PRWEB) February 22, 2015
While cold winter weather has cooled builder confidence, The Federal Savings Bank was pleased to read that it remains strong in February, according to a February 17th report from the National Association of Home Builders/Wells Fargo Housing Market Index. The HMI was 55 in February, down two points from the previous month.
The association said there were significant snow levels in parts of the country, contributing to the lower builder sentiment. Although builder confidence in the beginning of the year has slipped, the HMI component measuring sales expectations in the next six months is high with a reading of 60. The NAHB said job growth combined with low mortgage rates could help boost the market.
"For the past eight months, confidence levels have held in the mid- to upper 50s range, which is consistent with a modest, ongoing recovery," David Crowe, chief economist at NAHB, said in a statement. "Solid job growth, affordable home prices and historically low mortgage rates should help unleash growing pent-up demand and keep the housing market moving forward in the year ahead."
Three out of the four U.S. regions evaluated by the NAHB had HMI scores above 50, indicating builders are confident that conditions will be good for growth in the market.
Improvement in economy could boost housing market
With the rise in employment numbers, a gain in consumer wages could help increase housing demand. Recent reports found consumer confidence in their financial situations have improved while average hourly earnings rose 0.5 percent in January from one month earlier, as reported by Bloomberg on February 17th.
Whirlpool Corp Co-Vice Chairman Marc Bitzer said on an earnings call Feb. 4 that the housing market improvements could result in higher appliance demand as well.
With builder confidence staying positive, first-time home buyers looking for new houses to purchase can contact the Federal Savings Bank, a veteran owned bank, to learn more about mortgages.