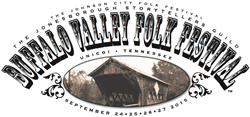 The Buffalo Valley Folk Festival heads into 5th Year.. a remarkable Festival, thumbs up! US FESTIVAL NEWS 2015
Johnson City, TN (PRWEB) February 24, 2015
Buffalo Valley Folk Festival has finished 2014 Season in spectacular style, and gears up for Year Nº 5 in Unicoi, Tennessee.
And that's not just good news for the Mountain Kingdom - that's great news for the entire Festival community.
What started as a festival in a warehouse in Johnson City, TN, has moved into the main US Festival community with heaps of praise, more press in 2014 than many national Festivals and a local and regional roster of musical talent that is impressive.
With one of the most dramatic locations imaginable, The 2015 Buffalo Valley Folk Festival looks like another winner for September. The Festival is located on 90 acres of pristine mountain forest, right next to The Cherokee National Forest and snuggled into the side of Buffalo Mountain in The Buffalo Valley. It is located in Unicoi, Tennessee, on the grounds of The Farmhouse Gallery and Gardens.
Buffalo Valley Folk Festival did a few remarkable things this past season. They kept their attention on the authenticity of their surroundings, and translated that into operational detail. The Meadow Stage and The Storytellers Stage were made of straw bales and plywood and lit by Mason jars with stage bulbs inside, and the Pavilion Stage and Blacksmiths Stage were in perfectly natural, aged wooden structures.
The Festival management Team has a number of partners, and Eric Stillions is the Partner who oversees stages, lighting, power supply issues and all electrical management and staging. Eric is based in Van Nyus, California, and is a Member of IATSE Local 728, the Studio Electrical Lighting Technicians Union.
The Storytellers Stage was lit by end-up Mason jars fitted with stage bulbs too, and the effect was nothing short of magical. The same stage will be back in 2015 and The Jonesborough Storytellers Guild will again coordinate and present the local and regional Storytellers from its Guild. There were many standouts in the solo performer category: Tony Vines (Erwin, TN), Emmitt Carlisle (Gainesville, FL) and Keith Rea (Houston, TX) and a number of remarkable bands and ensembles from Alabama and Lexington, KY: The Empty Bottle String Band was dazzling, and Dixie Ghost (Knoxville, TN) delivered perfectly arranged songs in a wonderfully loose and easy-going style.
The ambiance was thick with mountain themes and the overall sensation was one of an authenticity and a totally un-contrived presentation. That's no easy task when pressures for gate receipts, revenue streams and merchandise sales never seem let up.
Attendance was very strong - twice the capacity from the previous year, and radio, TV and Print coverage was heavy. The 2015 Festival kicks off on Thursday, September 24th and continues thru Sunday, September 27th. Details and applications for Vendors and Performers are available at The Buffalo Valley Website. ____________________________________________________________________
© Buffalo Valley Folk Festival and Johnson City Folk Festival are the property of The Johnson City Folk Festival, Inc. All Rights Reserved; The Festival takes place at The Farmhouse Gallery & Gardens in Unicoi, Tennessee. Contact The Buffalo Valley Folk Festival at info(at)johnsoncityfolkfestival(dot)com