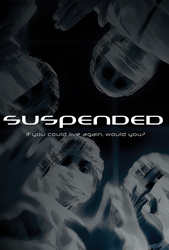 Los Angeles, California (PRWEB) February 24, 2015
Producers Gayle Dickie, James Allen Bradley and Patrick Werksma announce they are moving forward from development to pre-production on their feature film "Suspended" written by Sean C. Stephens along with Executive Producers, WeatherVane Productions, Inc., Jason Van Eman and Ben McConley.
WeatherVane Productions, Inc. has most recently announced numerous films in Hollywood and in Berlin and has financed 17 feature films over the past year. Scheduled to begin pre-production March 3rd, "Suspended" is an intense drama thriller about how one man's grief leads him into the center of a scientific mystery that will cause him to question his faith, family, and his very existence.
"We've had this film in the works for awhile and are thrilled to have financed "Suspended" as well as found a way to move forward Gayle and James," states Van Eman. Dickie states, "Our funding partners, Jason Van Eman and Ben McConley have been nothing short of supportive and give us the creative freedom every producer desires."
Hey Girl Hey Entertainment, in its association with WeatherVane Productions, Inc. looks to work together on various entertainment projects throughout 2015. The film will be the first feature for a newly created 3Way Films, Inc. with Gayle Dickie and James Allen Bradley.
The producers have yet to announce any cast attachments.
David R. Schwartz, Schwartz, Rimberg LLP is handling all production legal.
Hey Girl Hey Entertainment and principal Gayle Dickie, focuses on producing, packaging, partnering, and providing quality entertainment projects in film, television, media, and technology. A former TV syndicator, Gayle specializes in creating, evaluating entertainment projects, private equity funding, co-production ventures, distribution in TV and film, and has over 100 hours in story structure, evaluating properties in every entertainment vertical. With over 25 years of experience, Hey Girl Hey Entertainment is dedicated to helping people connect while creating and maximizing their vision without micro-managing every level.
WeatherVane Productions is a private investment firm specializing in entertainment and other non-entertainment related projects. Principal Jason Van Eman is committed to partnering with various producers and financiers to build the most advantageous finance plans for any and all media and entertainment projects. Most recently, WeatherVane announced "Royal Ice," based on a story by Prince Albert II of Monaco, and Scarlett Johannson's directorial debut with "Summer Crossing." Ben McConley and Jason Van Eman to executive produce.