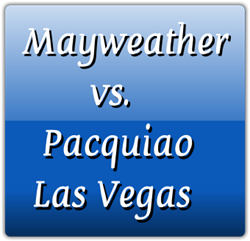 New York, NY (PRWEB) February 21, 2015
Ticket Down is a reputable source for authentic Mayweather vs. Pacquiao tickets for their historic bout which will be held in Las Vegas in early May. The boxing world, once called a dying sport because of the lack of major fights between elite superstars, has the dream fight the entire world has been clamoring for since 2009. Floyd "Money" Mayweather will fight Manny "Pac-Man" Pacquiao on May 2nd from the MGM Grand Garden Arena in Las Vegas, NV. The fight will pit two of the greatest fighters of this generation in the ring in what will be the biggest pay-per-view fight in the history of the sport.
The sport of boxing has seen its share of memorable and classic fights like Ali vs. Frazier, Leonard vs.Hearns, Ward vs. Gatti, and Hagler vs. Hearns, but when the lights go down on the MGM Grand Garden Arena on May 2nd, there may end up being a new fight at the top of that list. These two welterweights have been the best in the world for some time, which is what has made this fight so intriguing to the boxing community and the fans. The idea of money being the reason why these two wouldn't fight was crazy to the common fan, but both fighters decided to go for the richest payday in their history when they compete in Las Vegas.
At 47-0 (26 KO), Mayweather is one of the best fighters in the world and has rarely been tested throughout his career. He is the pound-for-pound No. 1 fighter in the world and at 38, could be nearing the end of his career. With a victory in this fight, he will keep his undefeated streak alive and earn the title of greatest fighter of this generation. During his career, he has beaten the best fighters in his weight class including Miguel Cotto, Juan Manuel Marquez, Oscar De La Hoya, "Canelo" Alvarez, and Zab Judah, and in many cases, did so handily. Despite his undefeated mark, the one reason that some would avoid calling him the best in the world is not fighting Pacquiao. On May 2nd, that could change.
Pacquiao, the 36-year-old from the Philippines will come into this fight with a 57-5-2 record. After beating his greatest rival Marquez in late 2011, many felt that he may have been a win away from convincing Mayweather to step into the ring with him. Unfortunately for Pacquiao and the boxing world, he lost to Timothy Bradley in what was one of the worst decisions in the history of combat sports. He looked to rebound by fighting Marquez again. In their fourth fight against one another, Marquez shocked everyone watching by knocking out Pacquiao in the sixth round. The dream fight with Mayweather was presumed dead forever, but Pacquiao has now won three straight and will step inside the ring for all the glory.
The MGM Grand Garden Arena is one of the top venues for combat sports, as it commonly hosts the Ultimate Fighting Championship, and has been the site of the past 10 Mayweather fights, and five of the past seven for Pacquiao. The 16,180 capacity venue will be filled with fans from around the world looking to watch what could be the best fight of all time.
About TicketDown.com:
Ticket Down delivers tickets to sold out concerts and events worldwide when no one else can, and they do so at discounted prices. This popular ticket exchange also has authentic Mayweather vs. Pacquiao tickets in Las Vegas along with hotel rooms and special hospitality packages. Find ringside seats, VIP, Zone A, B, C, D, E, F, G and H seating along with general admission (GA) tickets.
Note: Ticket Down is not associated with Mayweather or Pacquiao or any venues mentioned in this release. The names that are used in this release are purely for descriptive purposes. We are not affiliated with nor do we endorse any sports teams or venues in this release.
Check out our discount codes online for all upcoming events. Ticket Down has low overheads which allow this well-known ticket site to keep prices competitive.