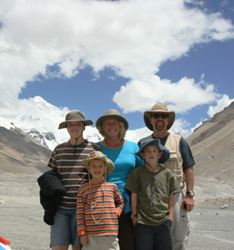 Lhasa, Tibet (PRWEB) February 24, 2015
For the 2015 travel season, family friendly Tibet tours are fantastic for families looking to get a way from it all while still enjoying enriching activities that broaden their cultural horizons. From temples and monasteries to outdoor adventures and shopping excursions, Tibet provides fun for all ages. Tony Yang of Tibet Ctrip Travel Service-TCTS (http://www.tibetctrip.com) has been helping families discover Tibet for over 12 years and discusses what they can expect.
Most tours by TCTS begin in Lhasa while those coming overland from Nepal will have their guide meet them at the border. In advance of arrival TCTS will take care of obtaining necessary documents such as Tibet travel Permits. The quickest and easiest way to arrive is by air; flights arrive daily from Kathmandu and cities across Mainland China. Someone from TCTS will be waiting at the airport and accompany families to Lhasa.
Once settled in at the hotel take time to rest and relax while ensuring that everyone drinks plenty of water, this will help minimize the effects of the altitude. Over the first couple days one of TCTS's native Tibetan guides will begin the tour with some easy paced sightseeing in Lhasa. This gives everyone time to adjust to the altitude while they are introduced to Tibet's culture and history at places such as Potala Palace and Jokhang Temple. All guides are incredibly knowledgeable, energetic, and appreciate questions and curiosity. Once on the road to places like Lake Namtso, Tsetang, or Mt. Everest families can rest easy knowing that their driver has a safe record and knows the Tibet's roads well.
Whether a family just wants to make a quick stop in Lhasa or is looking for a more immersive experience they will leave Tibet not only with lasting memories but they will also have broadened their cultural horizons and witnessed some the world's most astounding scenery. TCTS makes organizing a Tibet tour an easy experience; they work with travelers to put together an itinerary while taking care of travel permits, hotels, guides, and drivers. With the travel season coming up quick now is the time to start planning a tour!