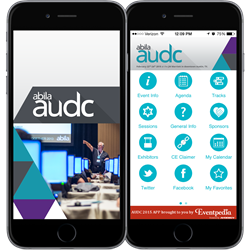 McLean, VA (PRWEB) February 23, 2015
Avodigy today announced it has launched their event mobile app, Eventpedia, on the Abila Marketplace, which is designed to provide nonprofits and associations with quick and easy access to tools and services to enhance their existing Abila products. Eventpedia is an interactive event mobile app, branding platform, and revenue generator for events, tradeshows, and conferences designed to engage attendees and enhance overall experience. Avodigy will be powering the 2015 Abila Users and Developers Conference (AUDC) with the sophisticated mobile app, and plans to offer promotional deals on the app for AUDC attendees.
"Avodigy is very excited to be a part of the release of Abila's Marketplace, as well as power AUDC with our mobile event app," said TJ Sun. "The synergy between Avodigy and Abila enables our mutual clients to enjoy the products, services, innovations and technologies from both companies. We look forward to continue to work together to provide seamless service and integrations."
Eventpedia Key Features

Excite and engage attendees by building a stronger and more intimate connection to your event. Easily reach your whole audience, with or without WiFi, on any device.
Generate revenue through selling sponsor ad space and sponsored push notifications, and save expenses on printing costs.
Custom branding includes your logo, advertising banner, splash pages, and our theme creation tool.
Key features include event agenda/schedule, interactive floor plan, push notifications, speaker/sponsor/exhibitor profiles, document attachment, surveys and live polls, analytics, iBeacon integration, attendee in-app messaging, and more.
"We're excited to have Avodigy be a part of the Abila Marketplace," said Céline Felan, program manager for Abila. "Our partners are such an important part of our success. They offer key products and services that truly help our customers by extending the value of our nonprofit and association solutions."
Since 2011, Avodigy has served as an implementation partner by performing day to day Abila netFORUMTM services including reports, data conversion, and customization. More recently in 2014, Avodigy became a product partner.
Abila Marketplace
The Abila Marketplace is a rich, interactive, engaging platform that showcases add-ons, customizations, and services offered by Abila's Partner Ecosystem for its award-winning products and solutions. Customers and prospective customers can quickly and easily navigate the site to find the information they need, including descriptions, demos, pricing, ratings/reviews, and contact information. The Abila Marketplace is a first-of-its-kind designed specifically for nonprofits and associations.
About Avodigy
Avodigy is a leading global provider of technology consulting services, which offers a family of mobile products built on the next generation of web, mobile, tablets, and applications. Our business is about asking the right questions, considering possibilities, responding with well-thought out strategies and actions, and delivering the highest quality products and services. For more information, visit Avodigy on the Abila Marketplace or visit http://www.eventpedia.com.
About Abila
Abila is the leading provider of software and services to associations and nonprofit organizations that help them improve decision making, execute with greater precision, increase engagement, and generate more revenue. With Abila solutions, association and nonprofit professionals can use data and personal insight to make better financial and strategic decisions, enhance member and donor engagement and value, operate more efficiently and effectively, and increase revenue to better activate their mission. Abila combines decades of industry insight with technology know-how to serve more than 8,000 customers across North America. For more information, please visit http://www.abila.com.