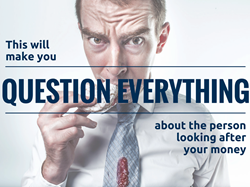 Financial sales people don't want us to tell the truth
(PRWEB UK) 1 March 2015
Why is international financial advice nearly always bad?
Based on the company's experience, the answer is quite simple. Huge (and often hidden) upfront commission payments encourage financial sales people to do exactly the wrong thing to expats – to sell expensive financial products which destroy their investment returns.
For over 10 years now AES International's mission has been to change this and their new published Culture Code outlines exactly why AES International exists.
Challenging the status quo in international financial services is not easy, for two reasons.
1. Financial sales people don't want anyone to tell others the truth; and
2. Clients aren't used to being told the truth.
There is a real and urgent need to heal the lack of trust in international financial services and the company firmly believes this can only be achieved by doing one thing; sharing knowledge, and not hoarding it.
This philosophy filters through into whom they recruit as well as how they look after their clients. In particular engaging advisers who share their belief – that transparent and regular fees are not only ethical but also the only way to build a solid business – is paramount. This belief started with the very foundations of AES International, with the company CEO, Sam Instone.
He believes, "The professional (not industrial) financial adviser of the future is a warrior for good. He has been through this conveyor belt of change. He now understands that his role is no longer to promulgate the misinformation of the past but to represent his clients' best interests and also to share his insights as far and wide as possible, in the hope that other market participants (advisers and clients alike) can benefit."
Over 26 financial advice awards in the past five years alone are testament to the work that AES International has done to transform this industry into a profession.
If you are an expat looking for advice on your investments, or are a new model financial adviser who wants to be part of an organisation redesigning the future of financial services, you are urged to read and share AES International's Culture Code, and to get in touch.