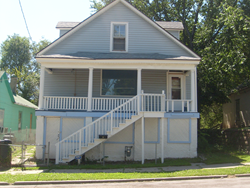 Too many times, homeowners feel completely stuck.... We step in, we take care of these issues, and we help our clients move on.
Houston, Texas (PRWEB) February 24, 2015
Backed by real estate successes nationwide, McIntyre Investment Properties (MIP) now brings its expertise to Houston, Texas. Originally founded with a mission to help families facing financial distress, the company broadens its reach to help homeowners in the Space City. Reaching out to homeowners who have endured the devastating effects of the recession, MIP helps clients put their best financial foot forward.
With a wide array of programs backed by substantial real estate investors, McIntyre Investment Properties gives hope. Whether a client's behind on mortgage payments and facing foreclosure, or their property is worth less than they owe and is in need of repairs, MIP has a solution - a solution that's quickly expedited via a coalition of private investors just looking for a prime opportunity to make a difference. In the market to buy a home outright, or provide supplemental loans to help save homes from foreclosure or auction, the MIP network of investors is ready for swift action.
Taken from the perspective of the homeowner who is facing troubling times, MIP President Laurie McIntyre says of the company's mission, "We get how this feels. My husband was laid off right at the height of the Great Recession. To our horror, we quickly burned through our savings, paying bills and minimum installments on credit card debt. Then, we missed a couple of house payments. It was an awful day when we received a foreclosure notice. I'm not embarrassed to say we were at wit's end. Thankfully, we've come out of the other side and it's made us want to work harder to help other families like ours." McIntyre goes on to explain that the company's founders eventually saved their home due to a HAMP refinancing loan they discovered while learning about real estate investing for MIP.
Now able to provide an empathetic approach to the process, MIP gives homeowners individualized attention. Maintaining their devotion to integrity above all else, the investment team meets timelines and keeps quality assurance at top of mind. Because many of the company's investment partners are cash buyers, in the market to upgrade their real estate portfolios, home sales can be quick. Adding to the company's benefits, should a property need extensive repairs, McIntyre Investment Properties also teams up with investors who specialize in restorations. Thus, the homeowner is not precluded from the sale of their home due to it being a 'fixer-upper.' MIP's network of investors have varying investment needs. Some investors are merely ready to give supplemental loans to homeowners who want to maintain control of the homestead. Simply stated, MIP has a solution to any real estate dilemma, thereby cornering all of the markets.
McIntyre adds, "Too many times, homeowners feel completely stuck either making double payments on a both home they live in and an unwanted property they've inherited or won in a divorce. Or they have a property that's being occupied by non-paying tenants and don't have the means to conduct an eviction. We step in, we take care of these issues, and we help our clients move on."
About McIntyre Investment Properties:
McIntyre Investment Properties Inc. is a private commercial real estate lender that provides short-term bridge financing speedily. The firm produces customized commercial real estate financing solutions for borrowers in unique and time-sensitive situations anywhere in the United States. Backed by private banks, various institutions and their Private Lending Network, McIntyre Investment Properties, Inc. offers solutions that are not accessible through traditional lenders.
To find out more, call 832-962-8197.
Contact Information:
Tim McIntyre
McIntyre Investment Properties, Inc.
http://www.mcinvestment-properties.com
832-962-8197
Tim McIntyre
360-202-1728