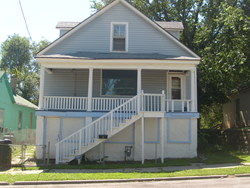 Although many economists state that the recession is over and we're on our way to recovery, we know that there are many homeowners out there who are struggling to recover.
Houston, Texas (PRWEB) March 03, 2015
Responding to Houston's monumental real estate gains recorded in 2014, McIntyre Investment Properties (MIP) helps distressed homeowners join the party. Having recently expanded to the area to help relieve clients of crushing mortgage debt, the company sees ongoing potential. Noted as a year for the history books, the demand for houses in the Houston area rose to extreme levels. Making it the perfect time for a house, and its owner suffering financial troubles, to find a new life.
So to what does the market owe this great boon in Houston real estate potential? Studies attribute it to the influx of more than 125,000 jobs that attracted homebuyers from across the U.S. and around the world. Music to a distressed homeowner's ears. While sources say that present inventory is down in the Houston real estate market, MIP has no shortage of clients, clients all too thankful to relieve themselves of mortgage debt and a home that no longer suits their needs. Regardless of the reason, MIP's continued commitment to superior real estate services continues to attract troubled homeowners in need of repositioning themselves financially.
Projecting increased business for Houston, MIP has enlarged the size of their investor network. This has now enabled them to increase their buying potential. Thankfully this translates into meeting their company mission - to help more families encumbered by troubled financial times. To that end, MIP recently met with Houston's Housing Authority representatives to strengthen relationships and target key neighborhoods in need of the most help.
McIntyre Investment Properties president Laurie McIntyre says of the investment firm's expansion in Houston, "Although many economists state that the recession is over and we're on our way to recovery, we know that there are many homeowners out there who are struggling to recover. With that in mind, we're a small family-owned business that believes the big banks and investment hedge funds are not advocates for the individual families striving to make ends meet. Someone has to speak up for this section of the marketplace and that someone is MIP."
Simplifying matters for homeowners that are still suffering from the effects of the recession MIP offers myriad solutions. Helping families with supplemental loans or the outright home purchases, the investment firm is a veritable one-stop-shop. Making use of a broad pool of private investors who have a range of investing goals, MIP can provide quick resolution to foreclosure or auction threats. Regardless of the home's state of disrepair, unpaid property taxes, code violations or waning equity, the company provides much needed resources to facilitate new ownership. If the home has been subject to a prior listing with a real estate agent or homeowners need to move as soon as possible, there is no reason too large that MIP cannot find a resolution.
McIntyre adds, "We've developed strong relationships with our investors so there's surety of a quick and gratifying sale for the homeowner. That brings our commitment to providing a win/win situation for our investors and our clients full circle. It also bolsters the greater Houston area and infuses neighborhoods with new potential."
About McIntyre Investment Properties:
McIntyre Investment Properties is a family-owned real estate investment company whose main office is in Anacortes, Washington. MIP offers an array of services to homeowners and private investors. The owners live by their motto: "Serving families by providing affordable housing to build strong communities."
To find out more, call 832-962-8197.
Contact Information:
Tim McIntyre
McIntyre Investment Properties, Inc.
http://www.mcinvestment-properties.com
832-962-8197
Tim McIntyre
360-202-1728