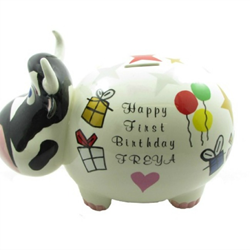 When I was married I would have loved a personalized gift rather than just something off a shelf, the gifts we received included three ironing boards
Manchester, UK (PRWEB UK) 24 February 2015
The fledgling business 'Animals Like Us' has added Corporate Gift Ideas to the range of Moobanks on their website http://www.moobanks.co.uk making it easier to choose a gift for family members, friends and businesses.
The frenzied gift buying for Christmas may feel like a long time ago, but for everyone there remains a list of events such as birthdays, anniversaries, new babies and weddings. Many of these events will require the presentation of a gift. The problem is what gift to give.
The solution suggested by 'Animals Like Us' is a Moobank. Moobanks are large ceramic cow shaped money boxes that can be personalised. The recipient of a gift rarely fails to smile when they discover their name on it. Giving someone a personalized gift has a huge effect. It shows an effort has been made to find something for them that they can treasure. Graham Wilson creator of the Moobank states, "When I was married I would have loved a personalized gift rather than just something off a shelf, the gifts we received included three ironing boards"
On the website of Animals Like Us http://www.moobanks.co.uk something unique can be created by the customer to cover every occasion and every recipient. The gift-buying dilemma is resolved. The Moobank is personalized with significant dates of events, names and messages. The variety of themes, colours and accessories are limited only by the customer's imagination. If the customer needs inspiration the website has a page titled 'The Cowshed' where there are gift ideas waiting to have a personal message or logo added.
Lithographic transfers can be made to the design of most company logos. The transfers are applied to the glazed white surface and baked in the kiln at over 800 degrees centigrade resulting in a smooth, permanent and spectacular finish. Further wording can be added to complete the personalized corporate gift effect.
Corporate gifts can be fun. Consider the ethical gifts that competitors distribute. A calendar on a wall may display a telephone number on it but it is not inspiring. A useful desk diary is very literally outdated every year. A large 27cm long Moobank on a workstation or counter will amuse all who see it. It might even be used to collect money for a client's favourite charity.
Moobanks are not going to replace the cheap pen as a corporate gift. They are bespoke hand crafted products and that requires time for them to be produced. The price remains the same whether there are 5 or 50 ordered because they are not mass produced. It is a question of how much is the client valued and how much will the client value a company that has made the effort to find them something personal.
Animals Like Us and their Moobanks is about having fun. They are a personalized gift with a difference, a contemporary take on the classic money box. Moobanks can be personalised to remember a special occasion or to carry a personal or corporate message. They are an opportunity to create personalised gifts that are made from the start specifically for and uniquely to that special person. Moobanks are not found on the high street because each money box is made to order. Those interested in learning more about them can do so at http://www.moobanks.co.uk