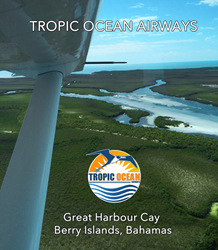 Tropic announces scheduled service to Great Harbour Cay, Bahamas from Fort Lauderdale. We are proud to offer a first class experience at a per seat rate to residents and visitors alike. - Rob Ceravolo, CEO Tropic Ocean Airways
Fort Lauderdale, FL (PRWEB) February 23, 2015
Tropic Ocean Airways is launching two weekly scheduled flights from Sheltair's private terminal at Fort Lauderdale/Hollywood International Airport (FLL) to Great Harbour Cay (GHC) in the Berry Islands, Bahamas. Tropic is expanding their operations throughout the Bahamas and South Florida to meet the growing demands for private aviation and tourism industry. The airline has also announced that they will be operating their factory-new wheeled 2015 Cessna Grand Caravan EX aircraft to Great Harbour.
With direct service to Great Harbour in the Berry Islands, Tropic Ocean Airways will further strengthen their position as a leading airline in South Florida and the Bahamas providing clients with a premium travel experience. The airline has experienced rapid growth in the first few years of operation, to the point where today they are flying private charters, scheduled destination flights, cargo, medical comfort evacuations and direct to yacht provisioning services.
The Grand Caravan EX aircraft, always operated by two highly experienced pilots, is scheduled to depart Sheltair Terminal in Fort Lauderdale at 1:00PM and arrive in Great Harbour at 1:50PM. The return flight segments will depart from Great Harbour at 2:30PM and return to FLL the same day at 3:20PM.
"We [Tropic Ocean Airways] are very proud to introduce scheduled service on the new wheeled Cessna Caravans to Great Harbour Cay, enabling direct access to the island for home owners and visitors alike." said Tropic Ocean Airways CEO Rob Ceravolo. "We are delighted to service this route and provide a private charter experience at a per seat rate."
From the Sheltair base in Fort Lauderdale International Airport, guests to and from Great Harbour Cay will benefit from Tropic Ocean Airways' twice-weekly flights with the Caravan EX, particularly given the simplified travel out of the private terminal which saves time and stress typically associated with commercial flying. Guests can arrive just 20 minutes prior to the scheduled departure and will be checked in by one of Tropic's customer service experts. The airline exceeds recommended industry safety standards, and offers a first-class customer service experience. The luxury planes seat nine (9) guests with controlled air conditioning, generous legroom, and spectacular views from every seat flying over the crystal blue Bahamian waters.
Scheduled Routes:
Twice Weekly Schedules from 13th March 2015 on Fridays and Sundays:
Departure in FLL at 1:00 PM, arriving in Great Harbour at 1:50 PM
Departure from Great Harbour at 2:30 PM, arriving in FLL at 3:20 PM
Notes to Editors:
About Tropic Ocean Airways:
Founded in 2009 by US Navy TOPGUN Graduate Rob Ceravolo, Tropic Ocean Airways LLC is an FAA-certified air carrier specializing in private terminal service throughout Florida and the Caribbean. Tropic Ocean Airways fleet of late-model Cessna Caravan Amphibians are handled by highly experienced military aviators and seaplane instructors providing service to private travelers as well as companies and organizations within the yachting and boating industry.
For more information please visit our website at http://www.flytropic.com or our sites on Facebook and Twitter.
For further information contact: Tropic Ocean Airways mail: media(at)flytropic(dot)com