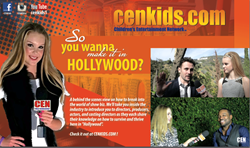 In Hollywood nothing happens overnight, any successful actor, director,or writer has put in a lot of work and time, the reality is you have to have longevity to make it out here" -- Alex Feldman, acting coach & founder of "For Actors by Actors"
(PRWEB) March 04, 2015
CEN is excited to announce their new web series, 'So You Wanna Make It In Hollywood'. CEN will bring viewers a series of shows with some of the best industry tips and valuable insider info. The series is going to reveal what to really expect and what it truly takes to succeed here in Hollywood.
Hollywood is known all over the world as the home of the entertainment industry. Just the iconic word "Hollywood" stands alone as a figure of speech for fame, film stars, and film studios alike.
In CEN's 'So You Wanna Make It In Hollywood', viewers will be taken inside Hollywood. The show will feature interviews from up-and-coming actors, actors who have had success, and ones who are working hard for just that one opportunity to showcase their talent. CEN will also interview top acting coaches, agents, publicists, managers and casting directors. The series will highlight some of the hottest stars on YouTube and how they got their start.
"So if your dream is to make it here in Tinseltown, you won't want to miss a single episode," said Mark Rowley, Producer/Director of CENKIDS.com.
About CENKIDS.com
CEN's team of reporters cover what's happening in the world of action sports, movies, TV, music and fashion. From red carpet events to the top of a vert ramp at the X Games, CEN will be there to explore all the fun for kids and teens. For more information, visit http://www.cenkids.com.
Media Contact:
DC
dc(dot)cenkids(at)gmail(dot)com
575-200-6149