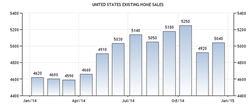 The S&P/Case-Shiller Home Price for December will be very insightful both for a broad barometer on US real estate and local city markets
(PRWEB) February 22, 2015
Lenders like Peoples Home Equity are anxiously waiting for the plethora of housing data being released next week. All the housing data released last week (NAHB Housing Market Index, Weekly MBA Mortgage Applications, Weekly Median Home Sales, and Housing Starts/Buildering Permits) reported declines. Next week, lender expectations will be much lower; this will increase the chance of a positive surprise in data. The amount of housing data released next week will be the highest of February.
Monday, February 23rd
Next week will begin with January existing home sales being released for January. As shown on Tradingeconomics.com, the market appropriately expects a monthly decline of -1.38%, but Peoples Home Equity would not be surprised to see a decline of -3%. One can only hope for a best, but a decline in January sales is a certainty.
Tuesday, February 24th
The S&P/Case-Shiller Home Price Indces for December will be very insightful both for a broad barometer on US real estate and local city markets. Peoples Home Equity will be paying special attention to states it finds have great opportunity for buyers such as Dallas and Denver.
Wednesday, February 25th
Wednesday will begin with the usual weekly mortgage applications data for the week ending on February 21st. Peoples Home Equity does not expect to see any huge surge; a positive number close to would not be surprised to see a bounce back from the dismal dry spell applicants have fallen under. Applications have fallen -9% and -13.2% respectively over the past two data announcements. Later Wednesday morning, new home sales for January will be released. New home sales unexpectedly increased 11.6% in December thanks to a 53.6% surge in the Northeast. Peoples Home Equity does not expect the market to hold the December annual pace of sales at 481,000. Since we now know that winter seasonal weakness is hitting weekly median home sales, it would be unrealistic to assume a higher or even similar report as December. Peoples Home Equity expects new home sales to post a decline for January.
Thursday, February 26th
On Thursday, the Federal Housing Finance Agency will release its December "Housing Market Index" this is different than the NAHB's Housing Market Index reported last week due to a difference in how data is collected. Again, Peoples Home Equity finds it unrealistic to assume a higher positive rise than was reported for a November (0.8%). However, a positive change less than 0.8% is surely positive.
Also on Thursday, the usual weekly median home sales report will give a good barometer on leading indications of whether or not the housing market is outperforming year ago levels.
Friday, February 27th
Finally, on Friday January pending home sales will be released. While on a monthly basis pending home sales declined -3.7% in December, and are expected to decline again in January, Peoples Home Equity would not be surprised to is sales report higher than year ago levels. As shown on TradingEconomics, pending home sales compared to year ago levels, have increased for 4 consecutive months, indicating an ever strengthening housing market!
Stay tuned for all of the housing data releases this week as lenders will be watching the numbers closely. Also, if in need of a mortgage, contact a Peoples Home Equity loan officer today at: 262-563-4026