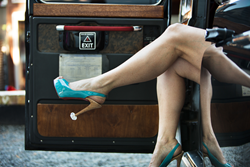 Starlettos were nominated again because they were Best for Supporting Actresses
(PRWEB) February 24, 2015
"For a product to be selected for inclusion in the major category Oscars® nominees gift bags is a real honor" said Starlettos Founder, Ilde Naismith-Beeley. "To be selected for a second time is deeply gratifying."
The Oscars® nominees who are to receive Starlettos include Keira Knightly (The Imitation Game) , Emma Stone (Birdman), Reese Witherspoon (Wild), Rosamund Pike (Gone Girl) and Meryl Streep. Julianne Moore (Still Alice); the winner of this years Best Actress award unfortunately won't get a pair as they are only gifted to the losing nominees!
The full contents of the 'Everyone Wins at The Oscars®' Nominee Gift-Bags includes some items like holidays and glamour camping trips valued at over $10,000 each. While that sort of thing is well beyond the reach of most people, Ilde points out that anyone curious can get exactly the same fourpack that Meryl Streep will receive for only $54.30. "It might not be a $10,000 holiday but I'm sure busy actresses like Meryl Streep struggle to find the time to use things like that and appreciate a few things that are a little more practical. We like to say Starlettos were nominated again because they are Best for Supporting Actresses!"
It has been just 7 years since the Starlettos high heel protectors were first designed, so for them to now be a fixture at an event as prestigious as the Oscars®, Ilde believes, is testament to their design, functionality and overall 'star-quality'.
Starlettos are shaped like a small floral-star and cup the bottom of high-heels and stilettos. Not only do they help heels to grip the floor and increase stability, but when the occasion arises, they stop heels sinking into lawns by increasing the size of the flat surface in contact with the ground.
"Starlettos have a designer look that sets them apart from cumbersome and unattractive high heel protectors, and they come in a variety of colors." said Ilde. "The discreet and popular clear Starlettos are almost invisible. We designed them mainly for use outdoors and on grass but of course they are also ideal for giving extra stability and heel protection for any day-night event where ladies find themselves navigating in their high heels through the afternoon and, at the Oscars®, probably long into the night."
Starlettos are available for purchase online at Amazon.com and at Starlettos.com. Retailer enquiries are welcome at starlettos.com.
About Starlettos
Australian-owned, Australian-designed, globally-loved: and available in the USA.
Starlettos are high heel protectors with a focus on design. They are easily slipped on and off stilettos and high heels to prevent them from sinking into grass at high-fashion outdoor events. With the added benefit of a non-slip base they provide the wearer with red-carpet confidence.
Starlettos are the brainchild of Australian Ilde Naismith-Beeley, and were the result of her own desire to wear beautiful shoes at her outdoor, on grass, wedding. In the process of creating Starlettos, Ilde solved two other stiletto-wearing-bride dilemmas - instability on stairs and dance floors, and potential damage to the wedding dress.
The full Starlettos story is at starlettos.com.