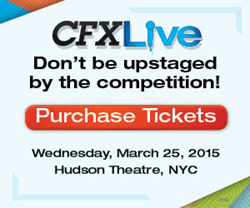 We're flipping the typical conference format on its head.
(PRWEB) February 24, 2015
Cablefax has unveiled the agenda and speakers for CFX Live, an interactive, one-of-a-kind experience that will bring together an unexpected cast of speakers on March 25 at the Hudson Theatre in NYC for a day that will change the way TV business leaders think about their content, their business models and their customers.
Presented by Cablefax, the most-trusted information resource for broadband executives, CFX Live takes a look at how cable, broadband and home entertainment services mesh with larger consumer trends both now and in the future.
"We're flipping the typical conference format on its head," said Michael Grebb, associate publisher of the Cablefax Group. "We've identified speakers who will get our audience thinking differently about their business and how to compete in this fragmented and challenging environment."
The speakers at CFX Live include:

Ann Carlsen, Principal, Carlsen Resources
Ryan Hunter, YouTube Entrepreneur and Author
Doug Jacobs, Partner, Cowan, DeBaets, Abrahams & Sheppard
Jeff Joseph, SVP, Communications and Strategic Relationships, Consumer Electronics Association
Jake Katz, VP, Audience Insights & Strategies, Revolt TV
Michael LaJoie, Partner, Jinsei 2.0
Steve Meyer, Executive Director of Strategy and Business Operations for the Video Business, Comcast
Bryan Neider, SVP/COO, Electronic Arts
Elizabeth Hendricks North, President, CuriosityStream
Linda Ong, Principal, Truth Co.
Seth Porges, Science and Technology Expert
Charles Segars, CEO, Ovation/Advisor to DreamWorks Animation
Esther Weinberg, Leadership Expert, Mindlight Group
Register now at http://www.CFXLive.com. The early bird rate ends February 27.
For more information and a detailed agenda, visit: http://www.CFXLive.com.
For questions regarding CFX Live, contact Allie DeNicuolo at allie(at)accessintel(dot)com. For sponsorship inquiries, contact Rich Hauptner at rhauptner(at)accessintel(dot)com.
About Cablefax: Cablefax is the most trusted brand in the industry, providing cable executives with the most original, comprehensive and insightful overview of the latest industry news and strategic initiatives. Cablefax offerings include a wide range of resources for cable professionals, including Cablefax Daily, Cablefax: The Magazine, award programs, webinars, and networking events. For more information, visit http://www.Cablefax.com.