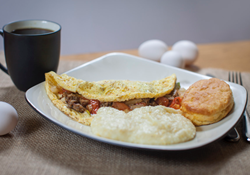 The three egg omelettes, made with real eggs and fresh vegetables, are definitely a house favorite.
(PRWEB) February 23, 2015
Topher's Rock 'N Roll Grill in Laurel, MS announces their breakfast menu. Topher's of Laurel, located on Hwy 15 N in the parking lot of the Pine Tree Village Shopping Center, opened their doors on October 8, 2012. They have been serving the Laurel area for over 2 years and have generated quite a buzz with their award-winning Gourmet Burgers, Sandwiches, and Salads in a fun "Rock 'n Roll" themed environment. Their breakfast menu, all made-from-scratch, features Breakfast Sandwiches, Omelettes, Platters, Specialty Items, and Sides.
"Our Breakfast Sandwiches, served on our fresh made-from-scratch biscuits or signature sourdough buns, are definitely a favorite." said owner John McCarter "But the three egg omelettes, made with real eggs and fresh vegetables, are definitely a house favorite."
About Topher's Rock 'N Roll Grill
The Topher's Rock 'N Roll Grill concept opened their first location in Hattiesburg, MS in 2009 serving up Gourmet Chargrilled Burgers, Sandwiches, Salads, and Breakfast. The franchise concept has three locations in Mississippi with future plans for growth and development outside of the state. Learn more at http://www.tophersgrill.com