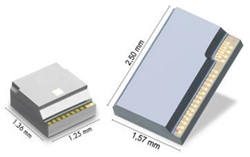 We are ready to partner with both existing and new players to meet the challenges of cost and power savings, performance and integration.
Grenoble, France, and Dallas, TX, USA (PRWEB) February 24, 2015
Tronics Microsystems, a designer and manufacturer of innovative nano and microsystems, expands its business model to high volumes markets with the licensing of its unique Magelan and M&NEMS technologies. The products manufactured on these breakthrough platforms offer key differentiators, from inertial sensors enhancement to the combination of all measurement types on a single chip, paving the way for new fields of application, in particular for the mobile and wearable devices market.
Tronics continues to demonstrate its commitment to making innovation a reality by providing advanced solutions to the industry and offering a cost- and power-efficient response to the increasing miniaturization of electronic devices and the proliferation of wearable electronics. Available technologies and products include:

Magelan process technology platform: state of the art capacitive technology for 6 axis monolithic chips, designed for miniaturized high performance inertial sensors (accelerometers and gyros), with a proven track record in high volume applications
M&NEMS process technology platform (in close collaboration with CEA-Leti): breakthrough piezoresistive nanowire technology combining up to 10 axis (accelerometers, gyros, magnetometers, pressure sensors and over time, microphones). The inertial 6 axis chip is currently the smallest combo sensor of the industry on a single die (less than 4mm²): it exhibits reduced size and cost, low power consumption, as well as an improved ASIC (Application-Specific Integrated Circuit).
Buoyed by this momentum, Tronics aims to make its unique product technologies available to very high consumer volumes by providing the industry with a new licensing model. Having already secured customers in Asia, the Company is now targeting key foundry players with a view to enabling fast and easy technology deployment in order to meet the needs of the ecosystem and the growing demand for wearable devices, smartphones and tablets.
"The need for inertial solutions is omnipresent: our new licensing model offers industry players their only opportunity to reach an integration level of 3, 6, 7, 9 and up to 10 axis with state of the art technologies and products. With more than 15 years of experience, Tronics is well-positioned to address high volume markets in key applications", said Pascal Langlois, Chief Executive Officer of Tronics. "We are ready to partner with both existing and new players to meet the challenges of cost and power savings, performance and integration."
About Tronics:
Founded in 1997, Tronics is a recognized technological leader in the sector of nano & microsystems with high added value. Positioned at the heart of product innovation, Tronics has technology platforms protected by a portfolio of 25 families of patents, resulting from 15 years of R&D. Addressing high-growth markets relying on increasing miniaturization of electronic devices, Tronics designs, manufactures and sells custom or standard products to the industry, aeronautics & security, medical and consumer markets.