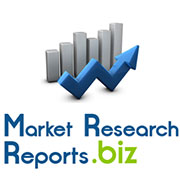 Albany, NY (PRWEB) February 26, 2015
Social business intelligence uses effective enterprise tools such as marketing automation and CRM for the purpose of making collaborative and strategic business decisions. The model helps to interpret the data generated from different social networks. On an aggregate basis, social media networks usually generate heavy volume of data from a variety of sources and create a gap of understanding regarding its use for an organization's future benefits.
View Full Report at http://www.marketresearchreports.biz/analysis/243969
This report is precisely created to give insights into how business intelligence bridges this gap and converts essential unstructured data into viable options in order to help organizations take informed decisions in the future.
Analysts of this study forecast that the global social business intelligence market is expected to rise at a tremendous CAGR of 33.79% over the period 2014-2019. Some of the major features covered in this report are: Definition of this industry with extensive, illustrative instances, key geographical regions involved in this market, present scenario, and the growth prospects of the social BI market for the forecast period 2015-2019.
Download Detail Report with Complete TOC at http://www.marketresearchreports.biz/sample/sample/243969
The report discusses the manner in which social media has become a major business tool across different industry platforms – helping organizations create and maintain their brand image and prominence to their global customers. Providing a wide range of services, feedback, and communication, the social business intelligence market helps to understand the behavioral aspects of customers in terms of demands and business needs.
The study also contains a detailed list of market drivers, challenges, and trends boosting or hampering the growth of the social business intelligence market. The emergence of social media and an increasing volume of information generated from social networks are perhaps the largest revenue generators of this market, balanced against high implementation cost that is expected to impede growth of this market over the next four years.
Explore All Technavio Market Research Reports at http://www.marketresearchreports.biz/publisher/73
The report enlightens readers with numerous vendors operating in this market. Through the vendor landscape viewpoint, the four major players in this market are Oracle Corp., SAS Institute, Inc., IBM Corp., and SAP AG. Other prominent vendors include Adobe Systems, Attensity Group, Visible Technologies, Clarabridge, Beevolve, Crimson Hexagon, HP, NetBase Solutions, Radian6/Salesforce, Kapow Software/ Kofax, Evolve24, Google, Lithium Technologies, and Sysomos.
The study concludes with a geographical segmentation of the social BI market for 2014 and provides segmentation based on applications and end users as well.
About MarketResearchReports.biz
Marketresearchreports.biz is the most comprehensive collection of market research reports, supporting clients' market intelligence needs with over 100,000 market research reports, company profiles, data books, and regional market profits in its repository. We also offer consulting support for custom market research needs.
Our document database is updated by the hour, which means that our customers always have access to fresh data spanning over 300 industries. From Fortune 500 companies to SMEs, Marketresearchreports.biz has built a veritable reputation for fulfilling the most exacting market research needs.
Contact:
State Tower
90 State Street,
Suite 700, Albany
NY 12207, United States
Toll Free: 866-997-4948
Email: sales(at)marketresearchreports(dot)biz
Browse Blog at https://businessmonitorinternational.wordpress.com/