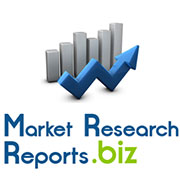 (PRWEB) February 27, 2015
According to the report the global waterjet machine market is expected to grow at a CAGR of 9.21% from 2014 to 2019. The report attempts to understand the strengths, weaknesses, opportunities, and threats this market faces with the help of a SWOT analysis. It presents a balanced case by identifying the factors supporting this growth rate and those that restrict it. The report is a repository of knowledge for every industry stakeholder – right from a novice entrepreneur to a seasoned investor.
View Full Report at http://www.marketresearchreports.biz/analysis/243974
Waterjet machines are used for the efficient and precise manufacturing of detailed machine parts. This industrial tool enables cutting into a wide range of materials using high-pressure water jets. The water thrust from this machine also contains abrasive materials that make the act of cutting hard materials such as granite and metals relatively easy. A waterjet machine ejects water at a pressure of more than 6,000 bars through a tiny opening.
The global waterjet machine market consists of two types of machines: Abrasive waterjet machine and pure waterjet machine. While the abrasive waterjet machine contains added abrasive materials, the pure waterjet machine makes use of only water for cutting with absolute precision. Waterjet machines are applied for various purposes in a wide range of industries such as automotive, die mold, defense, shipbuilding, parts manufacturing, electrical and electronics, wood working, healthcare, consumer durables, robotics, aerospace, plastics, food processing, and glass working. Besides these industrial applications, waterjet machines also find application in the job shops sector.
Download Detail Report With Complete TOC at http://www.marketresearchreports.biz/sample/sample/243974
The extensive adoption of these machines can be attributed to a lesser amount of heat they generate as compared to other cutting technologies. It is this unique selling point that makes them the perfect cutting tool for materials which are exceptionally sensitive to high temperatures. Additionally, waterjet machines lead to minimal material wastage, thus saving on costs.
Geographically, the global waterjet machine market is divided into North America, Asia Pacific, Europe, and the Middle East. The research report analyzes the factors that are supporting the growth of waterjet machine market in these regions and regions are that likely to dominate over the rest.
Explore All Technavio Market Research Reports at http://www.marketresearchreports.biz/publisher/73
Some of the key players studied by expert research analysts in this report are Flow International, OMAX, Dardi International, Bystronic, Huffman, Jet Edge, KMT Waterjet Systems, Waterjet Sweden, Anjani Technoplast, and ESAB Welding & Cutting Systems. The report offers a granular view of their financial outlook, mergers and acquisitions, investments in research and development, and future plans that are likely to change the face of the global waterjet machine market.
About MarketResearchReports.biz:
Marketresearchreports.biz is the most comprehensive collection of market research reports, supporting clients' market intelligence needs with over 100,000 market research reports, company profiles, data books, and regional market profits in its repository. We also offer consulting support for custom market research needs.
Our document database is updated by the hour, which means that our customers always have access to fresh data spanning over 300 industries. From Fortune 500 companies to SMEs, Marketresearchreports.biz has built a veritable reputation for fulfilling the most exacting market research needs.
Contact:
State Tower
90 State Street,
Suite 700, Albany
NY 12207, United States
Toll Free: 866-997-4948
Email: sales(at)marketresearchreports(dot)biz
Browse Blog at https://businessmonitorinternational.wordpress.com/