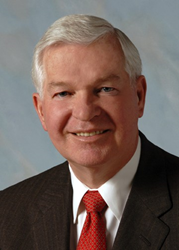 "Carl will be a tremendous addition to the board with his corporate CIO experience, his strategic thinking regarding technology, and his experiences in scaling tech organizations." said Monty P. Hamilton, CEO of Rural Sourcing, Inc.
ATLANTA, GA (PRWEB) February 24, 2015
RSI the pioneer and an industry leader in the fast growing trend of low cost domestic sourcing announced today that Carl Wilson, former Executive Vice President and Global CIO of Marriott Worldwide was appointed to the RSI board of directors.
During Carl's 14-year career with the Marriott, he established the IT organization as a strategic business partner to the broader company by aligning the technology function with aggressive profit goals and implementing leading-edge technology to advance the global presence of Marriott. Today Marriott is a $15 billion revenue company with 3,800 hotels across 72+ countries. Prior to Marriott, Carl served as the Vice-President of Information Resources with Georgia-Pacific from 1992 – 1997.
"Carl will be a tremendous addition to the board with his corporate CIO experience, his strategic thinking regarding technology, and his experiences in scaling tech organizations." said Monty P. Hamilton, CEO of Rural Sourcing, Inc. "We believe Carl's expertise will be extremely valuable as we continue to drive toward our mission of creating thousands of US based IT jobs in smaller cities across America."
"I look forward to working with Monty, his executive team and the rest of the board to accelerate the successful model they have pioneered in the world of IT outsourcing," said Wilson. "Having been a consumer of offshore services I was excited to learn about the cost effective alternative of domestic sourcing here in the US and am even more excited now to help them achieve their vision for the future of outsourcing."
About Rural Sourcing, Inc.
Rural Sourcing, Inc. is the leader in domestic sourcing, a cost-effective alternative to offshoring for technology development and the ongoing support and maintenance for critical business applications. RSI leverages IT skilled resources in our Development Centers, which are located near universities in smaller cities. Due to a lower cost of living and our proven delivery methods, RSI is able to provide significant cost savings for our clients. Well-trained employees with a strong work ethic living in low cost cities enable RSI to deliver exceptional value for our clients. Inherently, this value comes without the obstacles of time zones, distance, language, and geopolitical risks associated with offshore models. Over the next few years, Rural Sourcing, Inc. intends to create thousands of new technology jobs in the US by establishing development centers in non-metro, low cost of living cities across the United States. http://www.ruralsourcing.com