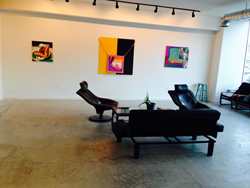 The City of Newburgh (55 miles north of NYC) is at the apex of all transport modes.
Newburgh, NY (PRWEB) February 23, 2015
Several artists, an architect, an environmental firm and a software developer are just some of the people who are now making this collaborative workspace their new home. Almost every weekend there is either an art exhibit, workshop or a community focused event happening here at Space Create. The weekend events have been a warm respite for many looking for things to do during an extremely cold winter. The owners recently opened the doors to this new space in early November of 2014 after working several months at renovating this former retail storefront into what it is today.
Located at 115 Broadway in the City of Newburgh, NY, Space Create is situated near the epicenter of where things are changing in this post-industrial city that is 55 miles upriver from Manhattan. The idea of this collaborative workspace was spawned by the world travel of two owners who happen to be Hip/Hop artists. The two envisioned this location as being perfect for like-minded artists and entrepreneurs. Their idea was to offer small, affordable workspaces in a convenient downtown location that had great access to restaurants, nightclubs and a local college, all within walking distance to Space Create. They also chose this location because of its close proximity to things like the Newburgh Ferry that brings you to the Beacon, Metro North train station with train service to NYC in little over an hour. The two owners, Decora and Free Flowin, believe the city of Newburgh is very affordable to not only run a business, but to live as well.
The owners are very excited about the recent "Start-Up NY" application submitted by Mount Saint Mary College, which should attract a lot of start-up companies to the City of Newburgh. The space features 24 hour access, free Wi-Fi, membership in a Community Shared Agriculture co-op, Bike Share, Conference Room and Kitchen. Their goal is to fill the few remaining workspaces and ramp up more artist and entrepreneur driven events as the New Year progresses.